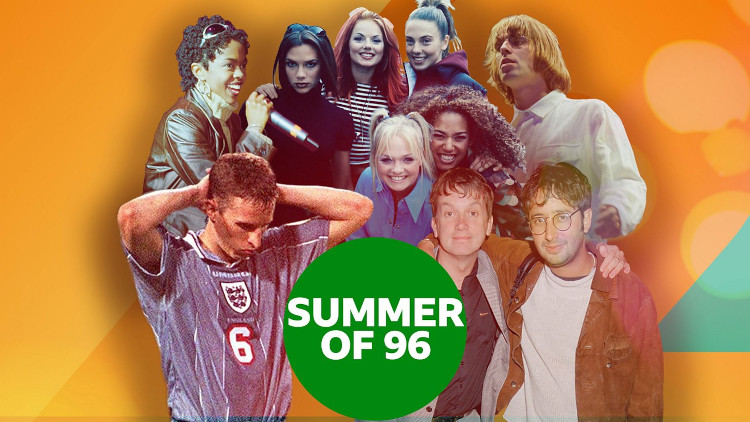 For the next three months BBC Radio 2 and BBC Sounds are going to celebrate the Summer of '96 – when football came home.
The idea is to relive the memorable Euro '96 tournament of 25 years ago with the news and music around it.
Memories will include when the Spice Girls were always in the news, the Beatles enjoyed a resurgence in popularity, an anniversary around Louis Armstrong and we'll even hear Scott Mills celebrating 35 years of his favourite soap, Neighbours.
Helen Thomas, Head of Radio 2, says: "Whether it's enjoying the timeless appeal of artists such as The Beatles, Louis Armstrong or Amy Winehouse, being given an introduction to hip hop by Romesh Ranganathan or reliving the joy and pain of Euro 96, there's something for everyone on Radio 2 this summer."
Highlights of the Summer Of '96 Season:
SOT90s Summer Of '96 Specials (Friday 18 June, 2, 9 July, 10pm-midnight)
Sounds Of The 90s with Fearne Cotton will be celebrating 1996 across three shows with a Euros '96 Mixtape (Friday 18 June), a Smash Hits Special (2 July) and a look at Top Of The Pops from that year (9 July).
Euro 96 – When Football Came Home (Sunday 20 June, 9pm-10pm).
As the country enjoys a feast of football, Gabby Logan travels back 25 years to celebrate that unforgettable summer and retell the story of when football really did come home. Gabby remembers Gazza's wonder goal and 'dentist chair' celebration against Scotland at Wembley, Seaman's Spanish shoot-out heroics, the tears of a young Gareth Southgate, and, of course, the story behind the song that defined it all – Three Lions.
The programme also relives iconic moments from the tournament through BBC archive commentary and hears from players, managers, broadcasters and fans, alongside some of the biggest tracks of the year.
The Sounds Of 1996 (Saturday 26 June, 9pm-10pm)
Another chance to hear this reversioned programme in which Fearne Cotton introduces an audio collage of 1996 – the year of Euro 96 and football 'coming home'. It was also the year of Damon Hill's biggest Formula One success, while Michael Johnson won both the 200m and 400m at the Olympics. Tragedies in Dunblane and Manchester dominated the news. The film adaptation of Trainspotting was met with both outrage and acclaim. And while Take That went their separate ways, a new pop sensation, the Spice Girls, couldn't wait to 'zig-a-zig-ah!'
Beatles: Reborn In '96 (Sunday 27th June, 9-10pm)
Twenty five years ago The Beatles wrapped up their past and discovered a future. In late 1995/early 1996 the Anthology series – three double CDs and a multi-part TV documentary – came out, and, as a result, The Beatles sold more records in a single year that at any point since they broke up.
To millions of younger fans they were a new band, and a new generation of Beatle fans were born. Geoff Lloyd tells the story of the Anthology and talks to some of those new fans to discover why The Beatles became teen sensations all over again, 30 years after Beatlemania. But that's not all. The success of the Anthology kickstarted a whole legacy business for the music industry and, with the advent of file sharing and digital downloads, came the musical era of the eternal present – when everything is available all the time, and the only thing that matters is, is it any good?
How does an artist buy into that if they're a musician with a past? And how do The Beatles service the huge new audience they've suddenly gained? Essentially, by presenting them as a new and exciting band, and re-running their career with a series of groundbreaking releases that refresh and update the catalogue, culminating in this year's release of Peter Jackson's Get Back film.
Pick Of The Pops: 1996 (Saturday 3 July, 1pm-3pm)
Paul Gambaccini counts downs this week's chart from 1996, with hits including Oh Yeah from Ash, The Fugees' Killing Me Softly and Don't Stop Movin' from Livin' Joy, plus there'll be another chart from this week from a different year.
Spice Up Your Life! (Saturday 3 July, 9pm-10pm)
Radio 2 marks the anniversary of the Spice Girls' debut single – Wannabe – and the start of their global domination of the music world that followed its release.
Actor Richard E Grant, who was in the movie Spice World, embarks on a nostalgic journey revisiting the much-loved songs of the Spice Girls canon. Since Wannabe was released in 1996, the girls began a journey which led to them selling 90m records around the world, as well as winning American Music Awards, ASCAP Awards, Billboard Music Awards, Brit Awards, MTV Europe Music Awards, and Ivor Novello Awards. Even now, 25 years on, the opening 'Yooooo' to the track still has the power to provoke a big reaction.
He'll be speaking to some of the UK's biggest Spice Girl superfans – including one who spent more than £200k on merchandise, plus famous names such as KT Tunstall, Mollie King, Zoe Ball, Heather Small, Mutya Buena, Claire Richards and Olly Murs – to get to the heart of what the group and girl power meant then and what it still means today. This programme will be a joyful celebration of fandom, girl power, the music of the 90s and above all, the Spice Girls!
Richard E Grant says: "I'm thrilled to be presenting this programme for Radio 2 as I have so many fond memories of my time filming the Spice Girls movie and feeling the full force of Girl Power in action! They were such a phenomena and I can't believe we're celebrating their 25th Anniversary."
My Life In A Mixtape with Mel C (4 July, 9pm-10pm)
Melanie Chisholm – aka Mel C and Sporty Spice – takes listeners on a very personal mix-tape journey, sharing the stories behind the songs that have been the soundtrack to her life.
With Stevie Wonder as one of her earliest memories, music has always played a huge part in Mel's life. From Madonna to Blur via the fabulous Lizzo and many more, each track she selects evokes a memory of a time and place, as she journeys from childhood to the present day, playing the tunes that have been the accompaniment to her life.
Mel C says: "It's going to be a wonderful trip down memory lane, sharing some of my very favourite tunes and the memories they take me to with Radio 2 listeners."
6 Films You Loved In 1996 (Sunday 4 July)
Movie critic James King celebrates the summer of '96 with a look at the making of six seminal films released that year. For each film there's a look behind the curtain at how they were made, starting with the man who made that year's most memorable summer blockbuster, Mission Impossible, possible – stunt coordinator Greg Powell.
There's Bafta-winning filmmaker Mike Leigh and Oscar-nominated actor Marianne Jean-Baptiste discussing their acclaimed British drama, Secrets & Lies. John Morris tells James about voicing Andy in the hugely popular family animation Toy Story. Actor Myriam Francois discusses filming acclaimed period drama Sense And Sensibility alongside Emma Thompson and Kate Winslet. Two-time Oscar-winning cinematographer Roger Deakins takes us behind the camera of cult Coen Brothers drama, Fargo. And finally, James takes a look at how a small British film called Trainspotting became an international cultural phenomenon.
Next month it will be 50 years since the death of Louis Armstrong, who was one of the most influential jazz artists and Radio 2 is to honour him with a range of programmes:
Louis Armstrong Remembered by Gregory Porter (Sunday 1 August, 9pm-10pm)
Gregory Porter celebrates Louis Armstrong's incredible musical achievements, paying tribute to his unique vocal style and trailblazing musicianship, as well as the importance of his success as a black man in a very divided society through the decades. Hear Gregory express his own gratitude for Satchmo's legacy as he handpicks the tracks which mean the most to him and details how they inspired his own sound.
Gregory says: "I am celebrating the music of arguably the greatest jazz musician in history. He has influenced music the world over – mine included – and continues to do so, even 50 years after the world lost him. He sang so many songs about coming together, and about love, this is something I am constantly trying to do in my own writing, that is how Satch has influenced me. The freedom that he expressed in his musicianship and through his instrument, of putting his personality, his style and even his smile into his music is truly beautiful, and it is my honour to remember this truly great artist with BBC Radio 2."
Satchmo By Satchmo: The Louis Armstrong Tapes (Sunday 1 August, 2am-3am)
Broadcaster and journalist Paul Sexton takes a visit to the Louis' private tape vault. Paul sets the scene for a unique review of great man's life and times – unique because it's by Louis himself, talking about his life and times in largely unheard home recordings. He was one of the first artists to embrace reel-to-reel home tape technology and loved to record his own voice for posterity, whenever the occasion allowed, from around 1950 (when he had already been an artist for some 30 years) until shortly before his death in 1971.
Louis Armstrong: Behind The Music (Sunday 1 August, 3-4am)
Sir Michael Parkinson profiles Louis Armstrong who was one of his heroes – a man famed for his charismatic stage presence and instantly recognisable voice, almost as much as for his trumpet playing. Nicknamed Satchmo, his influence extended well beyond jazz music and, by the end of his career in the 1960s, he was widely regarded as a major influence on popular music in general. First broadcast in 2011.
The Jazz Show with Jamie Cullum: Louis Armstrong Special (Tuesday 27 July, 9pm-10pm)
Jamie Cullum presents a special tribute to Louis, as the jazz world prepares to celebrate his 120th birthday. Jamie will pick his favourite Satchmo classics and hear from contemporary trumpeters inspired by Armstrong about their first encounters with the great man's music.
Finally, he'll dust off something special from the BBC archives featuring the gravel voiced giant of 20th century music, whose legacy stretches from New Orleans to across the globe.
Jamie Cullum says: "There are few figures that had a bigger impact on 20th century music than Louis Armstrong – emerging out of the melting pot of early New Orleans jazz to become one of the world's most popular musicians. His songs have been a frequent fixture on the stereo throughout my life, and his influence on generations of musicians is incalculable. I regularly play his timeless music on my show already – but I'm really looking forward to celebrating Satchmo in a bigger way this Summer on BBC Radio 2."
Katie Piper guest presents Dr Rangan Chatterjee's show
Dr Rangan Chatterjee's show on Sunday nights will be guest presented by Katie Piper from Sunday 18 July through to Sunday 5 September (10pm-midnight) on Radio 2 and BBC Sounds.
Katie was Dr Rangan's first ever guest when the show launched in January this year, and she first guest presented the programme earlier in June. Katie Piper is a best-selling author, TV presenter, award-winning podcaster and philanthropist. She has published several books to date, including two autobiographies. In 2009, Katie set up The Katie Piper Foundation to help those with burns and scars to reconnect with their lives and communities. Katie has presented a number of television shows and documentaries including the award winning Katie: My Beautiful Face (Channel 4), ITV's Crime and Punishment series and BBC One's Songs Of Praise.
Katie says: "I'm really excited about presenting Dr Rangan's show across the summer. I loved being a guest when it first launched so can't wait to interview some guests myself to hear how they focus on their wellbeing and, of course, I'll be playing some fantastic music to help keep listeners feeling upbeat. Music can be such a great healing tonic for the soul and can bring listeners together, which is the positive power of radio."
Romesh Ranganathan: For The Love Of Hip Hop (August)
Recent viewers to BBC Two's Later… with Jools Holland would have seen comedian and broadcaster Romesh Ranganathan talk about his love of hip hop, and choose archive tracks from Roots Manuva, Jay-Z, Ice-T and Lady Leshurr.
This summer, he brings his love, knowledge and passion of hip hop to Radio 2 in this new four-part series – a beginners guide to hip hop. A former battle rapper and host of the Hip Hop Saved My Life podcast, Romesh is a hip hop aficionado, from its golden era in the 90s, featuring the likes of De La Soul, Snoop Dogg, Lauryn Hill and Missy Elliot, to modern-day acts like Lizzo and Kanye West.
Romesh has an encyclopaedic knowledge of the genre and a killer track selection to match! He will explore the music he loves, from its infancy in the 1970s, and with his usual humorous take on the unique music scene that is hip-hop, he'll make you love it too. Across the series, Romesh will play tracks around subjects in the genre, including looking at the relationship between comedy and hip hop and showcasing the household names that have dabbled in the genre that you might not know about. He'll play big hitters such as Wee Rule by Wee Papa Girl Rappers, and mainstream crossover tracks such as The Message by Grandmaster Flash and Numb by Jay-Z, and he'll have tunes from some of his all-time favourite artists such as Roots Manuva, LL Cool J, and A Tribe Called Quest.
Romesh says: "I'm incredibly excited about doing a hip hop show on BBC Radio 2. I feel like there's a big group of people that feel like hip hop isn't for them, but it absolutely is. It's such an expansive genre, it has something for everyone. I genuinely believe there is a whole raft of Radio 2 listeners who don't know how great hip hop is and I want to change that. I want to convert so many people that I start some sort of movement."
Legacy Of A Lioness: Amy Winehouse (17 and 24 July, 9pm-10pm)
This July marks 10 years since the tragic passing of singer and artist, Amy Winehouse, one of the UK's greatest music talents. Her story has been well told over the years, but now, looking back, her legacy lives on.
Amy led the way as a British female voice in reaching a worldwide audience. Although hugely talented in their own right, many of today's biggest artists recognise this contribution to their own careers, including multi-award-winning singer-songwriter Adele. This two-part special features personal accounts from UK female artists – including Emeli Sandé, Jessie Ware, Mabel, Ella Henderson and Alexandra Burke – talking about how she has influenced them, how they hear her legacy living on in music today, and sharing their favourite songs of Amy's.
Amy Winehouse at the BBC (Sunday 25 July, 7pm-9pm)
This two-hour archive show features Amy Winehouse's interviews and performances at the BBC.
Amy's life will be celebrated across the BBC with content and musical performances across television, iPlayer and BBC Sounds, including documentary Amy Winehouse: 10 Years On (w/t) and Amy Winehouse at Portchester Hall on BBC Two. BBC 6 Music will be marking the anniversary with an Amy Winehouse Artist Collection (Tuesday 20 July) and a Craig Charles Funk and Soul special (Saturday 24 July). Pete Doherty will be sharing his memories of Amy with Chris Hawkins (Friday 23 July, 5am-7.30am).
Bruce Springsteen: From My Home To Yours
Bruce Springsteen returns to Radio 2 for a limited season of his acclaimed From My Home To Yours programme. Recorded at his New Jersey home and featuring records from the Boss' own collection, the hour-long programmes will be themed and feature collections of songs to do with the radio, with the relationship between bands and their fans, with lawyers, guns and money, and a special mix to ease you into the weekend after a hard working week!
Sounds Of The 80s with Gary Davies presents… Long Hot Summer! (Friday nights, 8pm-10pm, from 25 June to 17 September)
This (occasionally) glorious weather has got us super-nostalgic for the long hot summers of the 80s. So say Hi-De-Hi to Sounds Of The 80s' Long Hot Summer Season – 13 weeks of nostalgia-drenched sunshine tunes every Friday night. Expect the likes of Club Tropicana and Holiday, but also lilting reggae, hot Latin grooves, Euro holiday hits and Balearic classics, together with themed Mastermixes, listener selections and memories.
The season's Opening Party (Friday 25 June) features a special Wham! Mastermix, marking 35 years since the band's The Final concert at Wembley Stadium, then it's 12 more sunshine-soaked weeks until the Closing Party (Friday 17 September).
My Life in a Mixtape with James Norton (August)
Actor James Norton, who has starred in dramas such as McMafia, War And Peace and Happy Valley, curates his very own audio biography for Radio 2, cramming his favourite songs and memories into a mix-tape! Each song is tied to a time, a person and place, as he journeys from childhood to the present day playing the tunes that have been the soundtrack to his life.
Radio 2's Summer Holiday (Monday 30 August, midday–2pm)
If you find yourself unable to jet off to hot and foreign climes then let Radio 2 take you away, immersing you in the sounds of your favourite holiday destinations. On August Bank Holiday, escape on a two-hour getaway trotting across the globe with music from the Caribbean, to Europe, the USA, Oceania and more to soundtrack your summer holiday – wherever it may be. And we'll be asking listeners to tell us about some of their favourite places to wind down or party up!
Expect tracks including Summer Holiday by Cliff Richard, Loco In Acapulco by The Four Tops, We're Going To Ibizi by Vengaboys, Kokomo by The Beach Boys, Y Viva Espana by Manolo Escobar, Africa by Toto, Havana by Camila Cabello, Montego Bay by Amazulu and lots more. And we'll end up Down Under where everybody loves good neighbours with Scott Mills' Neighbours celebratory special straight afterwards.
Scott Mills: Happy Birthday Neighbours! (Monday 30 August, 2pm-5pm)
Scott Mills is a huge fan of Australian soaps, Neighbours in particular, and this August Bank Holiday he's going to shout it from the rooftops of Ramsey Street so loud they will even hear it in Lassiters!
Everyone is invited to take a nostalgic walk down the most famous street in Australia, which was first broadcast to UK audiences on BBC One in October 1986. Throughout the show he'll be knocking on the doors of some very well-known 'Neighbours', reminiscing about their time on the street.
Listeners can test their knowledge with hourly quizzes on all things Erinsborough and enjoy a Neighbours-related playlist, including classic pop hits by Holly Valance, Natalie Imbruglia, Craig McLachlan, Jason Donovan and – of course – Kylie Minogue… plus some, perhaps, not-so-classic hits.
So whether you remember Scott and Charlene's wedding, Bouncer's Dream or had a crush on Plain Jane Superbrain, Scott wants to hear your memories. Plus, there will be honourable mentions to those huge stars who made Street cameos such as Lily Allen, Pet Shop Boys, Matt Lucas and David Walliams, as well as those who got their big break in Ramsey Street, such as Russell Crowe, Liam Hemsworth and Margot Robbie. The show will end with a grand finale in which Scott invites the entire nation to join in a singalong version of the original Neighbours theme tune, as sung by Barry Crocker… Don't It Make You Feel Good!