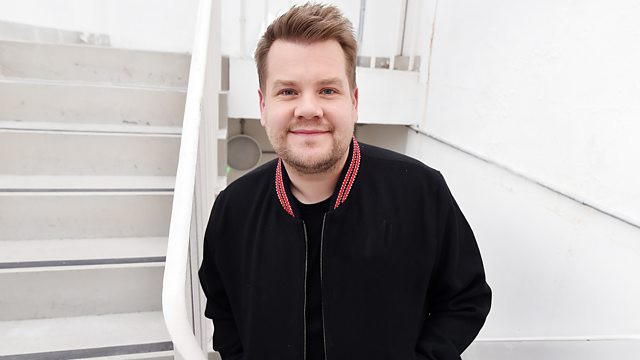 Image: BBC
James Corden was a guest on the Zoe Ball Breakfast Show on BBC Radio 2 this morning where he revealed who makes him starstruck, how he lost weight in lockdown and drops hints about more Gavin & Stacey after the Christmas special cliffhanger.
When it comes to being starstruck, having worked with many big names in showbiz, James says that he's not in any way blasé about it, but really, it's only Premier League footballers that make him feel that way.
"If I meet Jesse Lingard or Declan Rice, I become like a 14 year old boy," James told Zoe. He says that he went to an event a couple of Christmases ago and Gareth Southgate was there, who he really admires, and he couldn't really talk to him! "No-one would make me more starstruck right now than if I got to meet David Moyes," he also admitted.
Talking about his weight, James told Zoe that he'd managed to lose 23 pounds during lockdown. Having tried every diet there is, he revealed his one tip to lose weight. "I'm not for one minute saying that I've cracked this," he said, adding, "what I've realised is the notion of going on a diet is wrong. You're not going on a diet you're going to change the way you eat and you're going to change the way you eat forever." He says it's best to look at it as 'this is how you eat now'.
Although there aren't any plans to do another Gavin & Stacey series, James says that's not to say that there isn't the want or the inclination to do one. Because the Christmas special left things so open ended, he says it would be a shame to leave it there and he thinks Ruth feels the same.
"It doesn't feel like the end of a book, it feels like the end of a chapter, so I do feel like if we ever did another one that would be the end of it," he says.
Like last time, when he and Ruth wrote it without telling anyone, James says although they haven't discussed it, he has a hunch that no one will ever know it's coming, until it's done.
That sounds like a cliffhanger about the cliffhanger!!