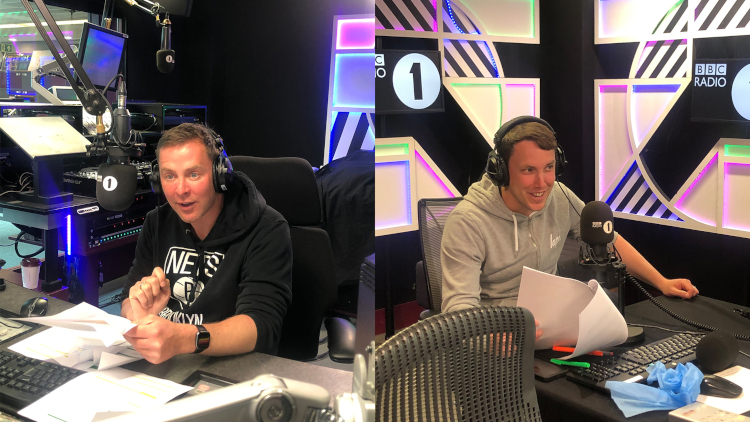 Scott Mills and Chris Stark are to do a one-off special guest Audio Description commentary for Episode 4 of Channel 4's dating series Naked Attraction.
The BBC Radio 1 duo have sparked national conversation around the Audio Description service after discussing Naked Attraction's unique commentary with listeners on their radio show.
Audio Description enables blind and partially sighted viewers to enjoy television by providing additional narration. It describes body language, expressions and movements, making the programme clear through sound for people who are blind or partially sighted.
Channel 4 invited Scott and Chris to record commentary in advance for Episode 4 of the programme, which will be used for the episode when it airs next week on Channel 4 and on All 4.
Naked Attraction, hosted by TV presenter Anna Richardson, sees the picker whittle down a group of six potential suitors, based solely on the power of Naked Attraction.
The naked hopefuls stand in individual pods, while one body part is revealed at a time to the picker, who eliminates a person in each round based on what they find least attractive.
This episode features Naked Attraction's oldest ever picker, 75-year-old naturist Ian from North Yorkshire, and 30-year-old waitress Kerry from Aberdeen, each hoping to meet their perfect partner.
Speaking about their one-off contribution to the AD service, Scott Mills and Chris Stark said: "The Audio Description on Naked Attraction paints rude and playful pictures each week which we love listening back to on Radio 1.
"We've heard from our listeners who use the service how much it enhances their enjoyment of the programme so it's amazing to be asked by Channel 4 and the RNIB to voice the audio description. It's been a lifelong dream to say sentences like 'a smorgasbord of front bottoms' and 'a plethora of peckers'."
The news is out!! ?️??@Scott_Mills & @Chris_Stark are taking over the Audio Description mics for NEXT WEEK'S episode… and wowee you're in for a treat!

Tuesday | 4th May | 10pm | @channel4 @AnnaRichardso pic.twitter.com/W8MnJkH8cI

— Naked Attraction (@C4Naked) April 28, 2021
Audio Description (AD) is available for free on a number of channels and programmes, but many television viewers are unaware the service exists. It can transform television viewing for blind and partially sighted people.
The AD service is available on digital TV from Freeview, Sky, Virgin Media, Freesat and YouView, and on All 4 via all4.com, Apple and the Android apps.
Naked Attraction airs Tuesdays at 10pm on Channel 4 and is available to stream on All 4.