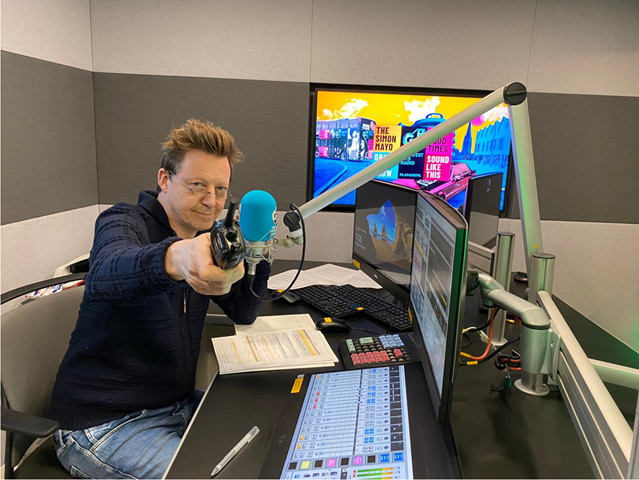 Returning to Drivetime, Simon Mayo launched his new show on Greatest Hits Radio this afternoon.
Artists including Gary Barlow, Marti Pellow, Midge Ure, Tony Hadley and Eddie Reader wished him well.
Good Luck messages from @GaryBarlow, @eddireader & @martiofficial.

Don't miss the launch of The Simon Mayo Drivetime Show!

Weekdays at 4pm ? pic.twitter.com/YfygtXcm8w

— Greatest Hits Radio (@greatesthitsuk) March 15, 2021
Kicking off the show with Bruce Springsteen's 'Born To Run', Simon welcomed in listeners both new and old.
Speaking just after 4pm, Simon said: "Where else to start? Bruce Springsteen and 'Born to Run'. And that is the travel news on your new drivetime programme from Greatest Hits Radio. (Quoting 'Born to Run' lyrics) The highways are jammed with broken heroes on our last chance power drive.
"So, first thing to say, thank you to all the previous presenters who sat here doing this show in previous months and years, building the show up to where it is now. Thank you, I definitely owe you one.
"Also, if you've listened to Greatest Hits Radio at Drivetime for a while, thank you, stay with us. I think we'll make a good team. Plus! New listeners, new arrivals, it's our first day of term together. Thank you for being there. Hope you'll around, at least until 7pm. So, it kind of feels good, and after just the briefest of breaks, back in the driver's seat."
Reading some of the texts and tweets, Simon said: "Thanks so much for good wishes and pleasant messages coming in… it's really reassuring you know."
He promised listeners "a few new ideas a few old ideas as well". Jingle 'Enjoy yourself.. it's later than you think' was back, along with Sports presenter Matt Williams, a well-known member of Simon's Radio 2 Drivetime line-up – although broadcasting from his attic in North London due to Covid restrictions!
Along with producer Suzi, Simon and Matt debuted new feature 'Drivetime Drama' on the show, in which they act out a song title for listeners to guess. Simon also spoke to Fairground Attraction's Eddi Reader after he chose their song 'Perfect' as his first 'Record of the Week' – showcasing a song from the 70s, 80s or 90s released on that week in history.
It's official @simonmayo is BACK on Drivetime ? pic.twitter.com/2cf4zFZM7Z

— Greatest Hits Radio (@greatesthitsuk) March 15, 2021
Listen to The Simon Mayo Drivetime Show on Greatest Hits Radio every weekday from 4pm.