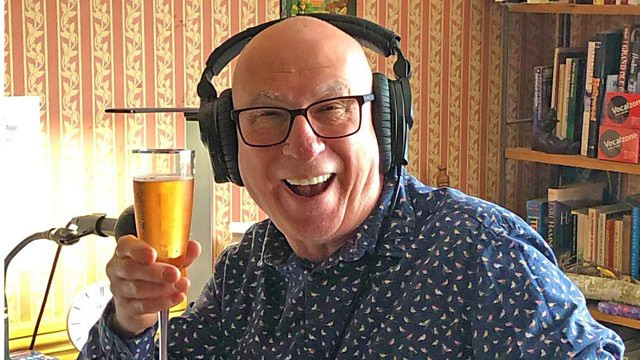 © BBC
It was business as usual today for Ken Bruce on BBC Radio 2 – well almost, because he's celebrating his 70th birthday and there was no way his friends and colleagues were going to let it go unnoticed.
Handing over to Ken at the end of her Breakfast Show, Zoe Ball said that it's a very special day at Radio 2 for a man who famously doesn't like a fuss, but he's celebrating a special birthday. She also told listeners that Ken is broadcasting from home and has been since last year, so she's arranged something special for him.
Ken immediately quipped: "When you said has been, I thought oh she's got me, she's nailed me with that one!"
Zoe explained the special surprise was the BBC Concert Orchestra's Rob Jordan with a bagpipe rendition of happy birthday and while he played, Ken's wife was waiting outside his home studio back bedroom to present him with a present from all his friends at Radio 2.
Glasgow born Ken's first job in broadcasting was as a staff announcer for BBC Radio 4 Scotland. He was also one of the original presenters on BBC Radio Scotland which launched in November 1978.
Joining Radio 2 in the early 80s, he took over presenting the weekday mid-morning show from 1986 to 1990, and then again from 1992 until the present day.
We'll definitely be stopping for you today, @RealKenBruce! ☕️?

Happy 70th Birthday to our PopMaster king ? Here's a look at some old but gold pics of Ken through the years…? pic.twitter.com/I4YoAlZeXy

— BBC Radio 2 (@BBCRadio2) February 2, 2021
Towards the end of today's show when travel presenter Richie Anderson finished his bulletin he said to Ken that there are a lot of people who would have wanted to celebrate his birthday with him so they'd brought some of them together to wish him a happy birthday.
The special recording of many well-wishers included Tom Jones, Rob Bryden, Rod Stewart and Elton John.
At the end of the messages, Ken joked: "It's amazing to hear all these wonderful people who've remembered who I am…. even at their great ages!" He also thanked everyone and those who'd put it together, he said "it was touching".
Ending the show, Ken said that it was a wonderful birthday, one of the best birthdays ever and, as you might expect, he finished by joking: "After all those tributes, I'm not sure what I should check first – either my contract or my pulse, because I seem to be either retired or dead!"
Happy birthday Ken!
No @RealKenBruce, we promise we won't make a big deal out of your 70th birthday! ?

(We'll just leave it to @BBCCO, @eltonofficial, @BonnieTOfficial, @RobBrydon, @RealSirTomJones, @grahnort, @TheShaunWallace, @TravisBand, @JudyMurray and @The_Proclaimers…?) pic.twitter.com/PPy7ZW2KA1

— BBC Radio 2 (@BBCRadio2) February 2, 2021