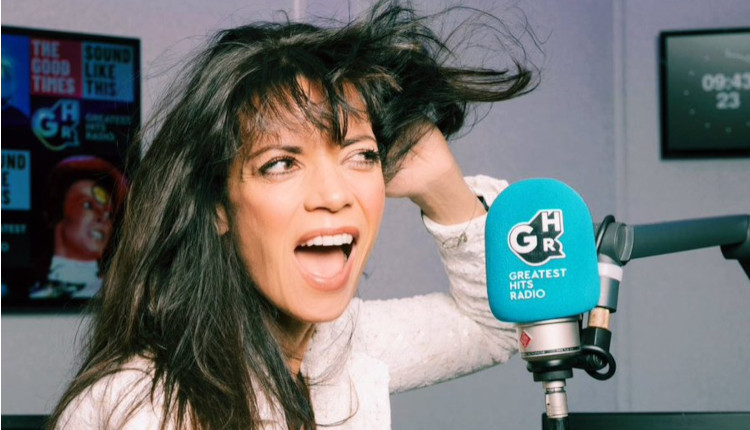 Twitter/Jenny Powell
Just ahead of joining Greatest Hits Radio next weekend, Jenny Powell talked to OnTheRadio about her career, the radio station she grew up listening to, her new show and reminds us it isn't the first time she's worked on the radio.
Launching her new Weekend Breakfast shows on Greatest Hit Radio next Saturday is the latest step in Jenny's 35-year career, which could have turned out very differently.
"I wanted to be a dancer or an archaeologist, I didn't mind which," Jenny says and joked, "because they're obviously really similar, I liked digging things up in the back garden – I think that's where the archaeology came in!"
She started dancing at around four years of age, became a tap-dancing champion at 13 and after passing her O Levels went to stage school. After being there for only a short time, Jenny was randomly auditioned for a new TV show, No Limits, which became her first job. She says: "It was in 1986 and I was only 16, so when I start my new radio show, I think it was 14 January when I started No Limits, it'll be more or less 35 years to the day."
Jenny grew up listening to music, she says as teenager in the 80s, liked Spandau Ballet, although she thinks living in the same area they came from, might be a reason for that.
"My brother and sister, who are older than me, brought me up on Earth Wind and Fire. Because my brother is eleven years older than me and my sister is eight years older, I got influenced with 70s music as well. My brother listened to the Carpenters and my sister listened to Barry Manilow all the time – so I was quite a mixture of influences," Jenny says.
She admits that she'd get some odd looks when she told her friends in school she'd been listening to Barry Manilow the previous evening!
When it comes to listening to music now, Jenny says: "I do love RnB, Stevie Wonder and George Benson. My other half, Martin listens to a lot of blues and he's introducing me, still – even though we've been together nearly ten years, he's still introducing me to blues, coz I struggle with it a bit, but I get it.
"I tend to select albums and listen to them, compilation albums."
Growing up in Essex, Jenny tells us which radio station she listened to back then: "Capital, that was it, I think Chris Tarrant was on it, that era – I was more that than Radio 1 I have to say, so I was a Capital girl!"
Hosting her new Weekend Breakfast shows won't be Jenny's first time working in radio, she was at Metro Radio in Newcastle for a while.
"I did a Saturday morning show with David Prever," Jenny says, "David did it all really. I was in the thick of it with TV at the time, I was doing kid's shows, I'd just finished No Limits and was doing Saturday morning shows.
"When that ended, Giles Squire (the Programme Controller) took me on, so I was commuting up to Newcastle on Friday nights and doing the Saturday morning show with David. I did it for a bit but had to leave when my career took another direction with more TV commitments."
Talking about her new shows on Greatest Hits Radio, Jenny explains her thoughts behind it: "I think the biggest thing for me is that it's authentic, which I love. This isn't made up but through the last year and the present circumstances, my nineteen year old came back from Uni, and I love her to bits because, I said Connie put your music on, we need some atmosphere in the kitchen – and it was from that really, she said 'mum, have you heard of this lot?' And I'm like, 'Connie… it's Sister Sledge, they've been around a very long time.' Mum have you heard of Chaka Khan – are you joking, I danced to them when I was your age! Then we found ourselves doing as you see everyone do on social media – dancing in the kitchen."
This gave her the idea, especially because the new show starts in January, that listeners are going to need cheering up, so she'll include a feature called Dancing in the Kitchen where she hopes to get lots of interaction, tweets and messages to help pick a song to get people…. dancing in the kitchen! "I always say to people you've got to keep moving, no matter what you do – it's authentic, it's real. It'll be a lovely thing to do on Saturday and Sunday mornings," she says.
We can't wait either ?

Join @JennyPowellTV for Weekend Breakfast starting January 9th! ? https://t.co/OwALBC9rp6

— Greatest Hits Radio (@greatesthitsuk) December 31, 2020
Getting up early to do the shows won't be a problem for Jenny because she's a morning person: "I don't know whether it's my age," she says, adding, "I always think of my mum and dad – dad's 93 and he's always like 'I was up at 4' so it's definitely when you get old you get up early.
"In my 50s I am a morning person, I'm annoyingly a morning person, but it also means by 3pm I have to have a nana nap. If I ever have anything practical to do or it needs energy, I have to do it in the morning!"
Living in Cheshire means she's only a twenty-minute drive from the station's studios so she can get up at the last minute: "The show starts at 6am, so up at five, dressed by five past, in the car by ten past and there at half past," she jokes… optimistically!
It won't change her lifestyle too much either, she explains: "I do a lot of events at weekends, not at the moment, but they tend to be in the evening at weekends, so it does mean I'm going to be racing around, so I'll probably have to conserve my energy and just be careful."
Jenny's partner Martin also does work at the weekend so if they ever want to go away, they normally do it midweek anyway, so, she says it won't actually change much. She also adds that her daughter Pollyanna has just turned 12, so when she gets home after the show at 10.30, Polly won't even be out of bed by then!
You can hear Jenny's new Weekend Breakfast show on Greatest Hits Radio every Saturday and Sunday from 6am to 10am.