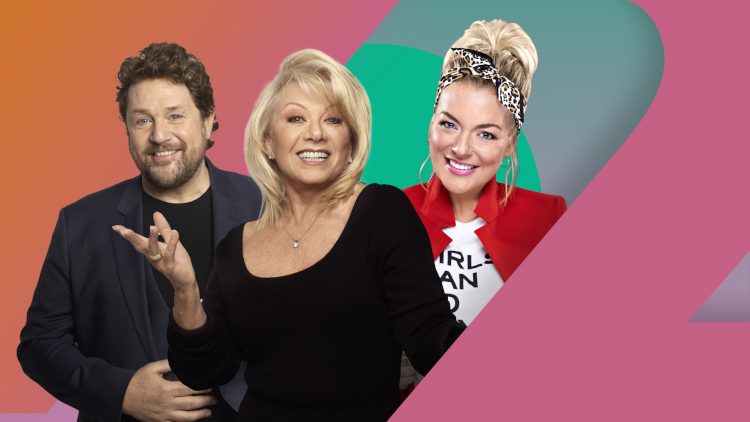 (C) BBC
Radio 2 Celebrates Musicals will be three days of programmes as part of Musicals: The Greatest Show from the BBC, which will feature music of stage and screen for listeners to enjoy at home.
With venues currently closed, Musicals: The Greatest Show is a celebration of the nation's favourite songs and performers from the world of musical theatre.
Hosted on radio and television by multi-award winning performer Sheridan Smith, it puts the songs, the shows, and the stars, back on stage at London Palladium. It will be broadcast from 7-9pm on Sunday 31 January on BBC Radio 2 and BBC Sounds, and as a 75 mins show in February on BBC One and BBC iPlayer.
Radio 2 Celebrates Musicals will run from Friday 29 January to Sunday 31 January with the station playing a range of music, programmes and documentaries.
On Friday from 5am to 7pm on Radio 2, each song played will be from Musical Theatre and film, plus there will be a national sing-a-long moment in Zoe Ball's Breakfast Show.
Ken Bruce's guest for Tracks Of My Years from Monday to Friday will be Elaine Paige, and American musical theatre actor, Marisha Wallace will do the House Music Session on Thursday 28 January.
Jeremy Vine will explore the joy of musical theatre and its power to move and inspire us. He'll be joined by musicals aficionado Pippa Evans as he asks listeners what is their all-time favourite musical?
Sara Cox will play all the listeners' favourite songs from the West End, Broadway and Hollywood musicals with an All Request Friday.
Musicals are the theme for OJ Borg's Midnight Mastermind quiz from Monday to Friday, and on the Friday night OJ has a musicals inspired Yawn Chorus, discovering the hidden am-dram singing voices from nightshifts across the UK.
There will be musical stars as guest presenters for Sounds of the 60s, 70s, 80 and 90s, with guest presenters including Jennifer Holliday, a Tony Award winner from the original cast of Dreamgirls, presenting SOT80s, Friday 8-10pm, Jason Donovan, who played the lead in Joseph and the Technicolor Dreamcoat, presenting SOT90s, Friday 10pm-midnight and Petula Clark, who's performed in numerous shows including The Sound of Music, Mary Poppins and Sunset Boulevard, and starred in 60s's musical films Finian's Rainbow and Goodbye, Mr. Chips, guest presents SOT60s Saturday 6-8am.
Dermot O'Leary's guests on Saturday will be director of Rocketman and Bohemian Rhapsody, Dexter Fletcher and John Owen, who was Jean Valjean in Les Misérables and the Phantom in Andrew Lloyd Webber's The Phantom of the Opera.
Later that night (9-10pm), is part one of First Cast, presented by Ben Thompson. The programme brings together the stars and creative driving forces of the original production of Cats sharing their memories. Contributors include Paul Nicholas, Bonnie Langford, Wayne Sleep, Seeta Indrani, Myra Sands, Donald Waugh and Femi Taylor, together with Brian Blessed and Elaine Paige. Part two will be on Sunday evening.
On Sunday, in Good Morning Sunday Revd. Kate Bottley and Jason Mohammed put the spotlight on Jesus Christ Superstar and Michael Ball will be joined by West End star Gary Wilmot, and two surprise names will play an On the Ball musicals special.
Then, Elaine Paige will reveal the results of the listener vote to discover their favourite song from a musical. Paul O'Grady's triple plays will be tracks that originally came from Broadway and West End shows plus there's a Broadway inspired Cocktail Recipe of the Week.
The three days of music will be rounded off by Musicals: The Greatest Show from 7-9pm.
Elaine Paige says: "Musicals are such a huge part of my life – as they are for so many of my friends and colleagues – so to be unable to perform or go to the theatre for most of last year was devastating for us all. Radio 2 Celebrates Musicals is a way for us all to come together, to be uplifted and sing out loud to the world's best show tunes."
Sheridan Smith says: "I'm thrilled to be hosting this wonderful show from The London Palladium for Radio 2 and BBC One. With so many amazing performers we're going to hopefully bring some joy to all those at home, with the best songs to help lift the spirits in these very difficult times."