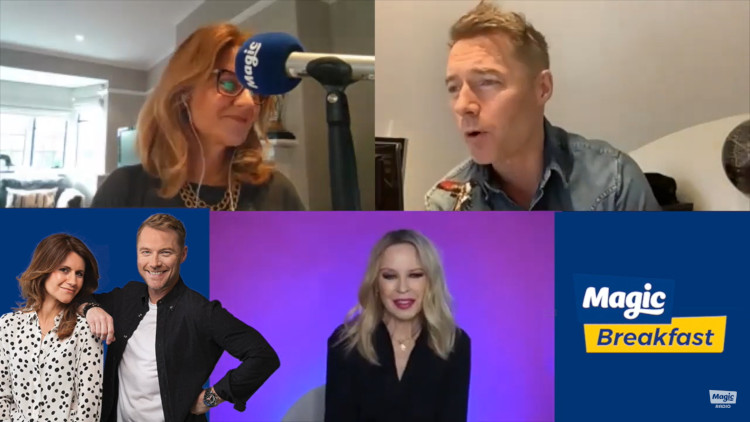 Things didn't go well to begin with this morning when Ronan Keating and Harriet Scott tried linking up with Kylie Minogue on the Magic Breakfast Show.
As advanced as technology is, it's by no means perfect and a little glitch here and there can cause havoc.
When this morning's interview was being set up, the connection between three of them had sound (important for radio!!) but Harriet couldn't see anything on her screen, she said: "It always happens to me!"
While Kylie waits patiently, humming a tune, Ronan joked to Harriet: "Have you not figured out this computer yet?"
Trying to help her, he asks Harriet if she has lots of squares at the bottom of her page! He apologises to Kylie who is laughing at the pair of them.
Ronan then said: "Every interview, every Zoom interview this happens – every time," to which Kylie quipped: "It's cruel isn't it!"
Harriet explained that although she could hear Kylie, so it wasn't the end of the world, but she would love to be able to see her.
Trying to help again, Ronan asked Harriet: "You've got a plus and a minus on the squares at the bottom, no?"
Still laughing, Kylie said: "But Harriet you know what I look like so you can imagine it!"
Ronan wanted to know if Harriet was using a Mac or PC, she said it was her work computer, which she now hates!
"I'll fax you," Kylie joked causing them all to laugh – although it might not have been a bad idea!
Having technical difficulties isn't fun at the best of times…let alone when you've got @kylieminogue on the phone! This is so relatable ? @ronankeating @harrietscott_ #Lovers #Magic #Disco #Kylie pic.twitter.com/gITxm7QAKc

— Magic Radio (@magicfm) November 10, 2020
Everything was eventually sorted and the interview went ahead as planned and you can watch it here.