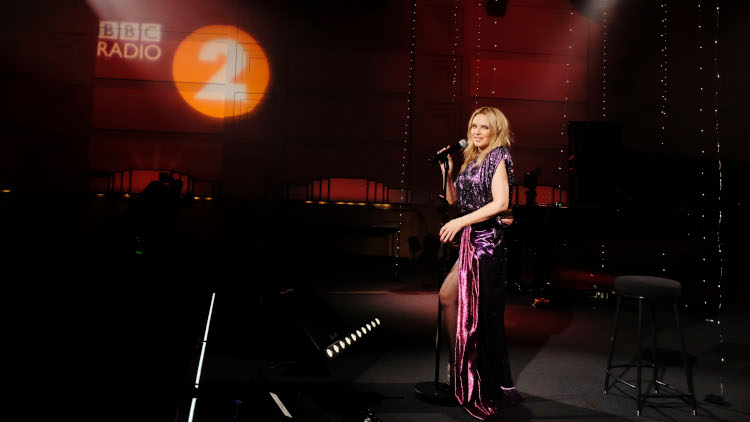 Credit: Radio2/Sarah Jeynes
Kylie Minogue was on BBC Radio 2's Zoe Ball Breakfast Show this morning, where she performed Say Something, Golden, followed by a cover of Earth Wind and Fire's September and then then into Spinning Around.
She appeared on the show as her new album DISCO was launched this morning. In her chat with Kylie, Zoe asked her whether she'd ever consider doing Strictly?
"Oh my gosh, I think I would be dreadful," Kylie responded, adding, "I'm a huge fan of the show and I absolutely love watching it but no, I think I'll let my past videos be the pinnacle of my dance achievements!"
With regards to performing live, which is a big thing for Kylie, Zoe asked if she can't wait to get back on stage? Kylie answered: "It will be emotional! I love love LOVE touring anyway, I think we're all acknowledging and understanding how much we miss those things.
"So, I imagine by the time I can actually get back on stage and share that experience with people, there will probably be a tear or two of pure joy and thankfulness."
She also revealed that she was excited to be able to perform her tracks in the BBC Radio Theatre, calling it an incredible building and while on its stage she was thinking "how many people have been up here".
Kylie told Zoe that she truly loves being in the studio and creating, but that "the idea of dancing with abandon, dancing because you're so joyful, music and dance is an incredible force!"
And like that, @kylieminogue's added some sparkle to 2020 ?✨

As her brand new album #DISCO launched this morning, she joined @zoetheball to perform some of her favourite tracks ? Listen back to the full show on @BBCSounds: https://t.co/0Vz5ZfeiF0 pic.twitter.com/Wl5IrclCIA

— BBC Radio 2 (@BBCRadio2) November 6, 2020