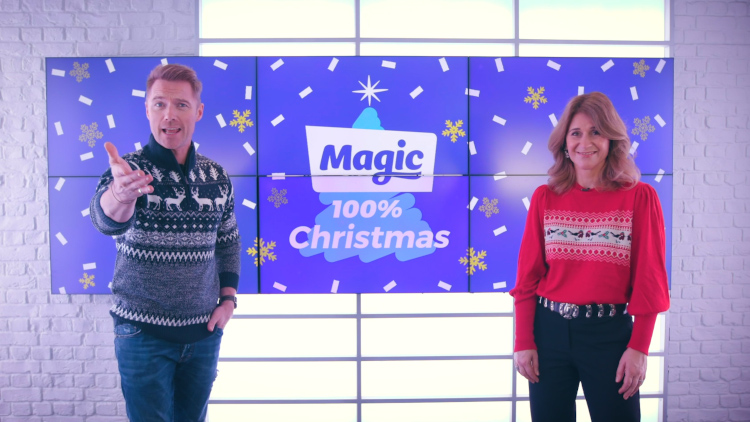 From today (25 November), Magic Radio has flipped to 100% Christmas music with its entire playlist being non-stop festive hits and Dolly Parton helped to launch it.
The station says it has "answered the call from listeners across the UK to help lift their spirits" and that "Breakfast Show hosts Ronan Keating and Harriet Scott have heard from thousands of people across the nation, as well as stars including Kylie, Gary Barlow and Sam Smith who have all shared how they're putting their Christmas decorations up early this year in a bid to welcome in some much needed seasonal joy".
This follows pop up Christmas station, 'Magic 100% Christmas' in August as a response to the ongoing Coronavirus misery, now Magic has overhauled its entire radio station to play festive tunes until December 27th.
Dolly Parton was welcomed by Ronan Keating and Harriet Scott this morning to launch the first Christmas song on the station which was 'Step into Christmas' by Elton John.
Dolly, who has recently been revealed as one of the main donors to the Moderna Covid-19 vaccine says: "I love everything about Christmas. I love the wrapping, I love trimming the trees. I love the family, the fun, the food, the music. Everything about it I love.
"All my nieces and nephews and my little grand nieces and nephews, they come to my house on like a Saturday at noon.
"They stay all afternoon and all night with me until late the next day. We get out and play. It's called Cookie Night. We make all kinds of cookies and fun stuff. We cook and get out and play Christmas games. Ride around on the golf cart on the farm. I just love doing that with the kids."
There's one tradition she won't be taking part in however – that's board games. She told Ronan and Harriet: "Everybody plays Monopoly, that's pretty much monotony for me. I'm too busy to sit down and play a board game. It would be a 'bored' game to me!"
Ronan and Harriet said: "Christmas songs bring so much cheer and we have been asked by so many of our listeners to switch the station. We listened and agree that the nation NEEDS Magic Radio 100% Christmas more than ever before. So, switch us on and settle in. It's Christmas songs all day every day from now on in."
Thanks @DollyParton ? ?
From Mariah Carey to WHAM!, and Michael Bublé to Bing Crosby. We've turned 100% Christmas playing more of the songs you love!
Listen on our app, on DAB nationwide, on our website, or ask your smart speaker to 'Play Magic Radio' ? https://t.co/5HhjyZf1ky pic.twitter.com/UyuLNPwvgC

— Magic Radio (@magicfm) November 25, 2020