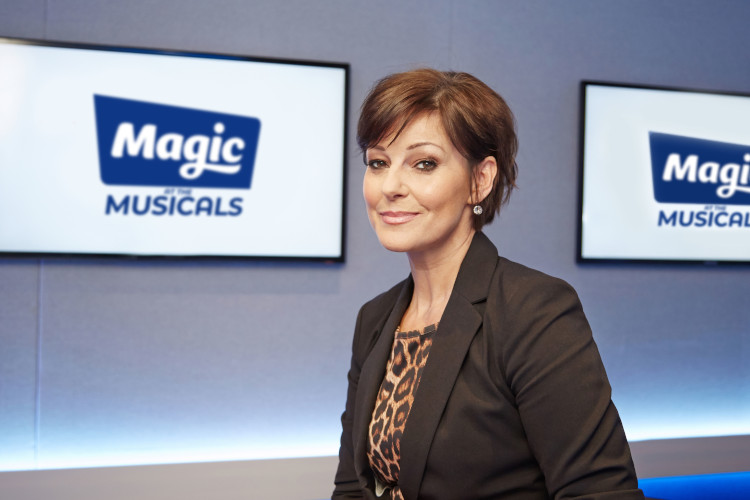 West End star and Magic at the Musicals presenter Ruthie Henshall was last night announced as the latest recruit for I'm a Celebrity Get Me Out of Here and this morning joined her Magic Radio colleagues Ronan Keating and Harriet Scott for a chat before entering the Welsh castle.
Ruthie spoke about shaking things up on the TV show, how she will face the trials and how John Barrowman gave her advice before heading in.
Because she's used to being the leading lady in her West End shows, it's normally a role "that is the glue and brings everyone together," she says, and adds, "so I am hoping that people are up for that."
Ruthie told Ronan and Harriet that she doesn't know if they put people in to shake it up, but she can't bear it when somebody puts a spanner in the works. As far as her West End shows go, she won't have bad behaviour, so is the first to take them aside and ask them what's going on, but doesn't know if you can do that with a bunch of celebrities.
When it comes to the infamous trials, Ruthie admits that it's the "eating thing" that scares her: "I think I am alright with creepy crawlies, but you never know until you are in that situation. If there is one in my house, I am not particularly adult about it. I do get like a squealing child," she says.
It's always a good idea to get advice from someone who's been through the same experience, so the first person she asked was former contestant John Barrowman. He told her to do it because it's a life experience that shouldn't be missed. He added that she will learn something about herself and although she'll have a wonderful time, she'll also have a hard time.
It's the simple things Ruthie will miss while in camp, such as coffee, a nice pillow and simple luxuries. She also expects to put on weight when she comes out after eating mainly rice and beans while in there.
Because of COVID and the lockdown Ruth thought the show might not go ahead this year so didn't allow herself to get too excited, but she is now and says: "The opportunity to be shoved in that type of situation with all those people appeals to me greatly, but of course there are things that don't appeal to me like trials and eating certain things. So, there is excitement and trepidation."
Eeek if you're an #ImACelebrity fan you'll know that our lovely @RuthieHenshall is heading into the castle! In case you missed it this morning on Magic Breakfast here is the lady herself spilling the beans before she headed to Wales…@imacelebrity pic.twitter.com/VWlhNzeKn1

— Magic Radio (@magicfm) November 18, 2020
Ruthie Henshall can be heard on Magic at the Musicals every Saturday at 2pm.