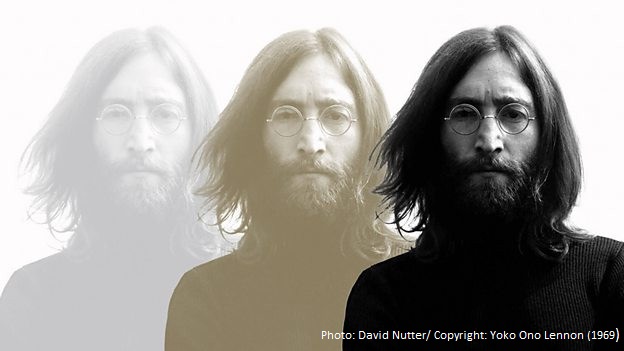 BBC Radio 2 will mark what would have been John Lennon's 80th birthday with Sean Ono Lennon interviewing Julian Lennon, Paul McCartney and Elton John in two-part documentary, John Lennon At 80.
John Lennon would have turned 80 years old on Friday 9 October and in these special shows, his youngest son Sean will present a celebratory, musical, family portrait of the legendary musician. It sheds fresh light on John's remarkable life in music – one which created some of the most important musical milestones of the 20th Century – and also delves deep into his incredible back catalogue.
Sean and Julian talk personally about their father and how he taught them about music. Julian recalls his dad buying him a guitar when he was around 11 years old and how it helped him get into music.
Paul McCartney shares his memories of meeting John, talking about the combination of him and John, saying: "I look back on it now like a fan, how lucky was I to meet this strange teddy boy off the bus, who played music like I did and we get together and boy, we complemented each other!"
For the first time, Sean speaks publicly to Elton John, who talks about what it was like being around John. He recalls a story about cycling eight miles to buy a copy of Sergeant Pepper in Hatch End because he was such a fan! Then, from being a fan to finally meeting John, he tells Sean: "When I met your dad I felt like I'd known him all my life and that's the biggest compliment I can pay him."
John Lennon at 80 can be heard on BBC Radio 2 on Saturday 3 and Sunday 4 October, 9pm – 10pm. Also, on Sunday 4 October 7pm – 9pm, John Lennon at the BBC will include some classic performances and interviews from the BBC's archive.
Helen Thomas, Head of Station, Radio 2, says: "John Lennon is one of the Radio 2 audience's most popular and best loved musicians, so we're thrilled and honoured that Sean's first ever radio programme in which he talks at length about his father, alongside his brother Julian, Paul McCartney and Elton John, will be broadcast on our network."
Imagine a celebration of @JohnLennon's life. ?

Alongside classic performances, in this two-part documentary, @SeanOnoLennon interviews @JulianLennon, @PaulMcCartney and @Eltonofficial.

Landing on the 3rd and 4th of October, 9-10pm.

?: David Nutter / Yoko Ono Lennon, 1969 pic.twitter.com/YZcPnlFWz1

— BBC Radio 2 (@BBCRadio2) September 23, 2020