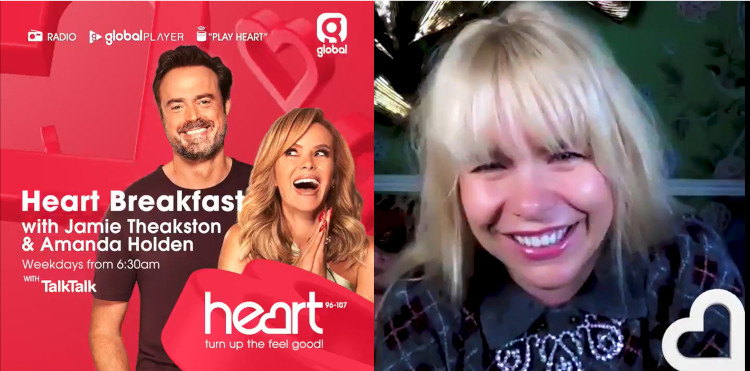 Paloma Faith was on Heart Breakfast with Jamie Theakston and Amanda Holden this morning, where she revealed she recorded her new album in her basement during lockdown after teaching herself how to produce music.
The singer, who recently revealed she's pregnant, said that she doesn't want to go back to recording in studios in future.
Introducing her to the show, Amanda Holden said: "Before we get to another big announcement of yours, can I just say congratulations on your pregnancy!"
Paloma Faith thanked her, then Jamie Theakston remarked that it was lovely news to wake up to and then asked how the rest of her week had been.
"It's been good," Paloma Faith answered and continued, "To be honest I have a really bad concept of time and memory and stuff so I don't really know, I couldn't tell you what I've done. I don't feel miserable, that's the main thing!"
Jamie joked: "Do you remember that you've possibly got a new album coming out? Does that ring any bells?"
"I do," she responded, then Amanda commented: "This is so exciting because nobody knows about this and you're announcing it today on our show which is brilliant! Tell us all about your album and your single."
Paloma revealed that the new album is called Infinite Things and will be released on 13 November. She added: "The first single from it is out now, it's called Better Than This and I'm really excited! I recorded the whole thing in lockdown in the basement of my house and I taught myself how to produce music for the first time in my whole career."
Amanda asked if that's how she's going to work from now on and Paloma answered: "Yeah because recently they were like 'oh we can go to the studio now, do you want to go?' and I said 'no, I don't'."
There was also another announcement from Paloma, she revealed that she's going on tour from September 2021 for 26 dates and said performing live is the thing she loves best about her job.
Alongside revealing she's pregnant today, @Palomafaith talks about her new single 'Better Than This', upcoming album and tour! ?❤️@JamieTheakston @AmandaHolden | https://t.co/rvjFrccfvd pic.twitter.com/BAMAmfZ14O

— Heart (@thisisheart) September 25, 2020