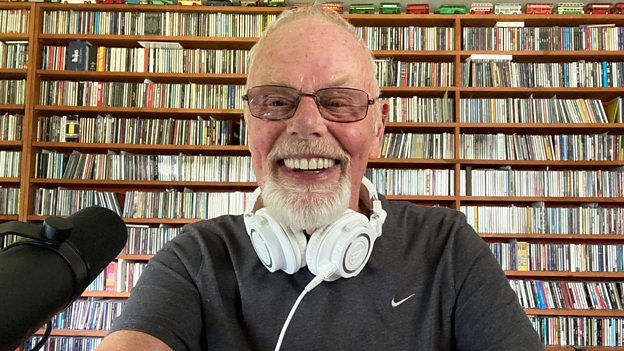 BBC
This Saturday (22 August) BBC Radio 2 is celebrating the fifty years broadcasting of one of radio's master craftsmen, who is passionate about what he does and has achieved much since his first BBC broadcast on Radio 1 on 19 August 1970.
In 50 Not Out, Radio 1's Breakfast host Greg James talks to Bob Harris, or Whispering Bob as he's also known, about his life, influences and passions. He finds out how it all started for Bob and what made him want to get into radio.
Listening to Greg and Bob in conversation it's easy to tell that they are friends, you're hearing a personal chat between two pals, but at the same time knowing you're invited in too.
Both of them share a love of cricket and music and have often attended gigs together with their families.
All the music in the programme is selected by Bob and begins with the first record he played on Radio 2. This is followed by Greg asking about the first record Bob bought.
Of course, everyone remembers their first record purchase and Bob explains that he was only 10 when he bought his. He was on holiday at the seaside with his mum and dad where he heard a jukebox playing in a café on the promenade.
The song that was playing was a defining moment for Bob when he realised, he wanted to be in music.
His mother's love for radio was an influence on him – they would listen to Listen With Mother every day on the Light Programme. Bob Says: "I just began to associate with this lovely warmth and this very caring, kind feeling I used to get from radio in those days."
As he grew up, Bob describes how exciting it was to be a part of the "flowering of colour from the 50s to the 60s" and when he moved to London, to be a part of what was known in the 60s as the counter-culture.
Pirate radio was a big influence on Bob, particularly John Peel's Perfumed Garden on Radio London. Bob tells how he eventually met John Peel and they became good friends.
Bob admits to being heavily influenced by Peel's style of broadcasting, he says: "I wanted to create this one-to-one, this intimacy where you feel that the voice on the radio is just talking to you."
He also speaks about learning to craft a radio programme so all the music fits together. Bob has always built his own playlists for his radio shows, so it takes the listener on a journey. This is why his shows are loved and respected by his colleagues, world famous musicians and a loyal audience.
Bob was friends with David Bowie and Marc Bolan. They used to hang out together, often at studio recording sessions and Bob reveals the Bowie song he ended up singing on.
The Old Grey Whistle Test came out of the blue for Bob, he jokes about what it was like in the studio and he also talks about how his first meeting with John Lennon came about in New York in 1975.
One of Bob's big things is his huge commitment to helping new musicians, from Emmylou Harris and Tom Petty in the 70s through to Steve Earle, Lady A, Carrie Underwood and Kacey Musgraves in more recent years and today's rising stars including The Shires, Ward Thomas, Kelsea Ballerini and Tenille Townes.
The Country Show with Bob Harris continues to be the destination for people wanting to know what's happening in the Country Music World. Bob tells the story of how presenting overnight programmes on Radio 1 led him to presenting the country show, which he says: "Is one of the best things that has happened to me in my entire life."
50 Not Out – Greg James in conversation with Bob Harris is a pleasant insight into the life and career of one of the UK's finest broadcasters. You can hear it this Saturday 22 August, 10pm – 11pm on BBC Radio 2.