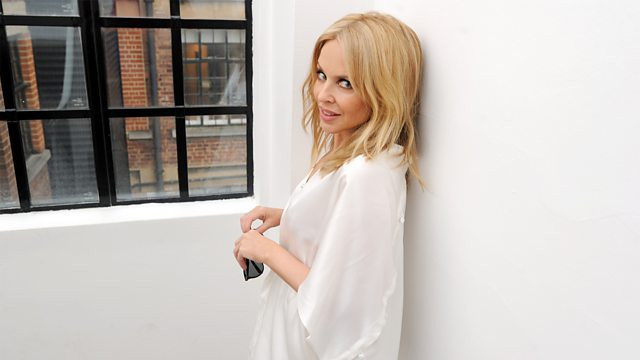 Source: BBC
Listeners from all around the world were tuned in to the Zoe Ball Breakfast Show on BBC Radio 2 this morning to hear Kylie Minogue and the exclusive first play of her new single Say Something.
Introducing Kylie onto the show, Zoe said that it was time to speak to a goddess and pointed out the last time she'd been on the show was when she was about to step on to the Pyramid Stage at Glastonbury.
The new single is taken from Kylie's new album Disco, which isn't released until September and Zoe asked why she'd chosen that title, is it one big party?
Kylie answered: "It's pretty much a party, at this rate it might be a kitchen disco, but disco is within – let's face it!
"The theme for the album is disco, which took a little while to find what my interpretation of that is. There's definitely a balance of fun and pure escapism with an emotional element."
Zoe wanted to know more about the new single, which Kylie said was written last year.
"It's like a gigantic song," she explained, adding: "Yet it's very heartfelt at the same time. When you see the video, it's like a galactic disco. So I think this song is about all our eternal quests for love and our searching and knowing that there's something or someone out there that you can relate to and makes you a better person."
After playing the song, Zoe asked Kylie how it had sounded at home? She answered: "Brilliant, amazing, I've just been waiting for this moment for seemingly forever.
Zoe told her the reaction from listeners had been incredible and Kylie responded that it's a mixture of emotions for her. She said there was a big smile on her face, but at the same she time felt like crying.
Although the album isn't out until November, Kylie told Zoe that there will be another single before then.
At the end of the interview there was only one thing Zoe could do, and that was to play the song again – much to Kylie's delight as she let out little squeal, adding: "Thank you, turn it up, turn it up!"
"It's like a galactic disco. I think this song Is about all of our eternal quests for love and the searching and the knowing there's someone out there!" ??✨

– @kylieminogue on Say Something, her first single from her new album Disco!

Hear it again ⏪ https://t.co/03UCfuAQ0u pic.twitter.com/vf6dymQ8Tp

— BBC Radio 2 (@BBCRadio2) July 23, 2020
#Lovers, SAY SOMETHING is OUT NOW!!!!! This is such an exciting day for me, sharing new music with YOU! https://t.co/6EkEs7pzXm ?
✨ #SaySomething #TellMeHowYoureFeeling pic.twitter.com/OhC2pFZ2ee

— Kylie Minogue (@kylieminogue) July 23, 2020