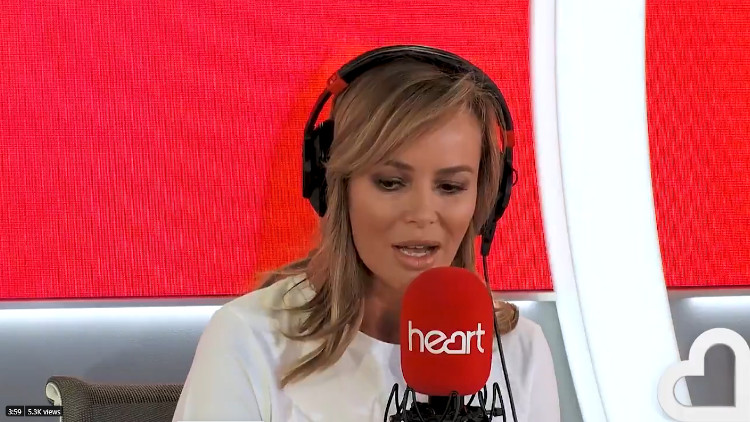 In an emotional moment on Heart Breakfast this morning, Amanda Holden spoke about why she owes the NHS her life as she gave the first ever play of her newly released charity single 'Over the Rainbow' which will raise funds for NHS Charities Together.
A tearful Amanda told her Heart Breakfast listeners that the NHS saved her life when she haemorrhaged during childbirth, that they were there for her sister when she sustained a brain injury during a car crash, and that they were incredibly supportive to her family when she had a little boy who was stillborn.
Discussing it with Jamie Theakston, Amanda said that she didn't want to sound too dramatic but told him she owed her life to the NHS.
Jamie asked Amanda to talk about it because he knows it's something that means a lot to her.
Relaying the stories, Amanda said: "When I gave birth to Holly, my 8 year old daughter who I know is listening, she was an emergency and I haemorrhaged basically and I actually did pass away for 40 seconds and then I went into a coma but the NHS were there holding my hand and my husband's hand who – I feel sorry for him to be honest, he went through it watching it all!
"My sister had a car crash three years ago and experienced a brain injury, she's fully recovered but they were there for that and then of course it's been well documented that Chris and I had a child, a little boy called Theo who was born sleeping at an NHS hospital and again, they were incredible to us, we couldn't have gotten through without them."
Explaining how her charity song came about, Amanda explained: "Last year, I recorded a version of 'Over The Rainbow', it was for my album but obviously that album is on hold. And last week we were chatting, literally last week and I remembered this song. We talked to my record label Virgin EMI and they've kindly agreed to put the song out with all the proceeds being donated to NHS Charities Together.
After playing the song, Jamie then read out messages of support for Amanda as Heart listeners responded to hearing it.
"Lots of love for the song this morning" Jamie said as he began reading out the messages: "Amanda, a massive thank you, a stunning cover. Much love to you and your family", that's from Allan.
"I'm a 43 year-old trucker on the front line, not gonna lie, you just made my eyes water, love the show and listen every day", that's from Lee.
"I was in a similar situation with my wife Amanda, the NHS are brilliant, can't fault them", that's from Morris in Beckenham.
And Claire says "Morning Amanda, 'Over the Rainbow' was beautiful. My son Jadon was born sleeping on the 23rd of March, not long after your beloved Theo, and that song was played at his funeral so hearing that song from you is amazing. I'm crying in the car remembering him and thanking the NHS."
After almost dying giving birth to her daughter & sadly losing her son Theo during childbirth, the @NHS has always been there for @AmandaHolden.

To say thank you Amanda's released her single 'Over The Rainbow' in aid of @NHSCharities Together❤️

Download: https://t.co/k8WTqQU0o2 pic.twitter.com/TzEBXIWh9L

— Heart (@thisisheart) May 1, 2020