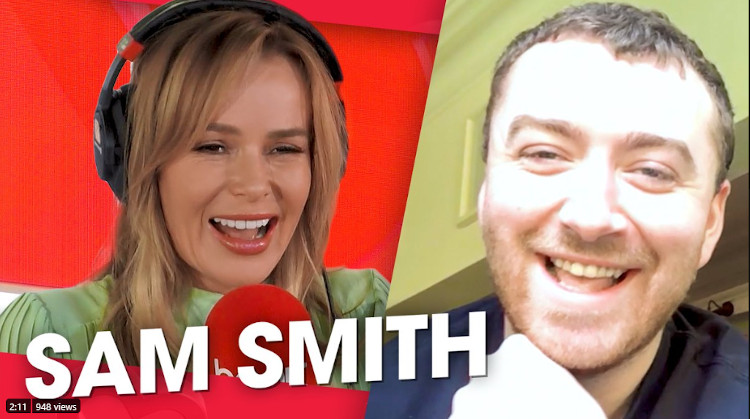 Appearing on Heart Breakfast with Jamie Theakston and Amanda Holden this morning, Sam Smith responded to what was reported as a meltdown on Instagram, explaining it wasn't meant in a malicious or nasty way.
Answering Jamie's question about how this lockdown was going, Sam said: "You know what it's good, there was a little bit of a low yesterday hearing we got another three weeks, but I can't complain, I'm with my sister, I'm at home.
"I think the hardest part is sitting back and watching everyone else working so hard, that's the hardest part of this, but I'm doing alright, the time is moving."
Jamie then asked about those who'd said that Sam had been struggling during lockdown and there had been a bit of a meltdown on Instagram.
Sam answered: "No it wasn't, it was more – it was six weeks ago I posted a picture and everyone else was posting pictures, it was probably bad timing of me, but I use my social media as if it's just my friends on it.
"I posted with my humour and stuff, but it just didn't get picked up very well, but I didn't mean any malice by it at all."
Jamie told Sam that there's no crime in being vulnerable and Amanda said that she thinks it's a very endearing quality.
" Yeah, you know me," Sam responded, adding: "I'm always sharing all of my feelings all the time and trying to be as human as possible but sometimes maybe people can read it wrongly but that wasn't really meaning it in a malicious or nasty way, I was just trying to be myself."
"I didn't mean any malice by it"@samsmith defends their Instagram 'meltdown' and wants everyone to focus on being kind to each other, not attacking each other. @JamieTheakston @AmandaHolden | https://t.co/rvjFrccfvd pic.twitter.com/jXsnUv8jzl

— Heart (@thisisheart) April 17, 2020