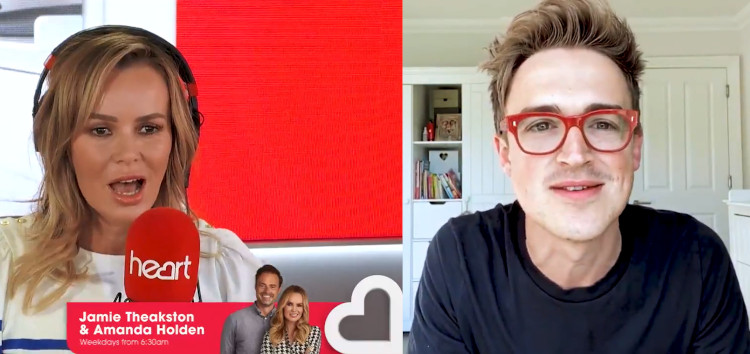 Tom Fletcher was a guest on Heart Breakfast with Jamie Theakston and Amanda Holden this morning, where he revealed how he and wife Giovanna keep the romance alive in lockdown.
He explained they "don't sleep anymore" as they juggle time between writing a book and being with their children. He also revealed that there have been discussions about turning their book series Eve of Man into a TV series or film.
Amanda Holden asked Tom if anyone had talked to him about making the book into a TV series or film. He replied: "Yeah there's been some chat about that, some discussions. Who knows? I'd love to, we see it in a very visual way when we write it so I feel like, of all the books we write, this one could definitely lend itself to like a series or film."
The attention then turned to how Tom and his wife manage their busy lives when Amanda asked: "How do you both find the time, you've got three children, you're both very busy doing other things other than parenting, how do you set aside time to do it together?"
Tom admitted that he has no idea, saying: "I think if we actually think about the logistics of writing a book with each other, with two authors and three kids, it's not actually possible. I don't actually know how it gets done but somehow we just juggle everything and we just don't sleep anymore, that's what it is."
Reminding Tom that it's a family show, Amanda asked him if he had any advice on keeping romance going during the lockdown.
"Oh my goodness," Tom responded, adding: "That's one of the things we struggle with as well because we work in the evenings.
"We're with the kids all day, put the kids to bed and then you know we write our books and do our work so we always try and have a cut-off point where work is finished and just sit on the sofa and have a glass of wine and watch a bit of TV. Just finding that time just to have ten minutes to just chill and talk."
.@TomFletcher and @MrsGiFletcher return with the second instalment in their bestselling Eve of Man Trilogy, The Eve Illusion! @JamieTheakston @AmandaHolden | https://t.co/rvjFrbUE6D pic.twitter.com/JPhjogoSR4

— Heart (@thisisheart) April 15, 2020