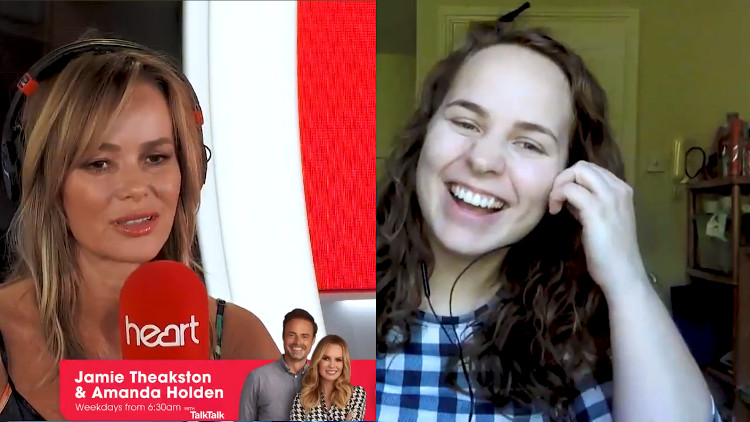 Britain's Got Talent contestant, nurse Beth Porch spoke to Jamie and Amanda on Heart Breakfast this morning about the phenomenal reaction to her BGT audition.
After Beth wowed viewers with her original song 'You Taught Me What Love Is', it was released as a charity single in aid of NHS Charities Together and Great Ormond Street Hospital Children's Charity, and went straight in at number 6 on The Official Big Top 40 chart yesterday.
Beth told Jamie and Amanda that "this has never been about fame" and she already does her dream job.
Explaining why she'd written the song, Beth said: "It was inspired by a lot of the patients and families that I've worked with and I previously worked on the cancer ward, and obviously it's a very emotionally demanding job and we do experience quite a lot of sadness there.
"So one way to help me deal with my feelings and emotions about sad situations we come across is I sing and I write songs, so for me it's just an expression of my feelings and a way for me to deal with everything.
"Obviously it's been amazing for my music to be shared and it resonated with so many people, for me that's exactly what music is about, and so I'm so happy so many people have enjoyed listening to my song."
Jamie wanted to know what would give Beth more pleasure, pop stardom or looking after poorly people?
There was no hesitation in Beth's answer, she responded: "Oh, looking after poorly people every time, this has never been about fame."
She admitted that at 16 or 17 years old she did want to be a famous singer like Taylor Swift, but then a lot of things happened in her life which changed her.
"I think anybody who is going after fame is going after the wrong things," Beth said, adding: "I love my job so much, whatever happens from this, if I end up becoming a musician that's fantastic, and that's a big dream of mine, but I already do my dream job. There's nothing better than helping people."
We're not crying YOU are?

Beth Porch who brought @BGT judges to tears with her inspiring song 'You Taught Me What Love Is' to benefit @NHSCharities and @GreatOrmondSt talks about the incredible feedback she's received?

Support and download here: https://t.co/3bLLDVg6Cg pic.twitter.com/RGEJk9Lxug

— Heart (@thisisheart) April 20, 2020
You can watch Beth's audition on Britain's Got Talent below: