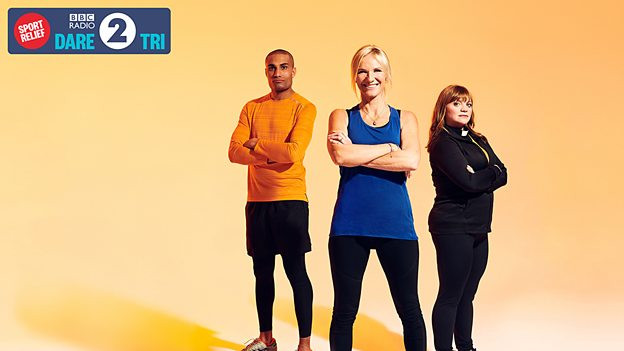 BBC
BBC Radio 2 presenters Jo Whiley, Reverend Kate Bottley and Richie Anderson are to take part in three triathlons over three days in England, Scotland and Wales in aid of Sport Relief.
The challenge, Dare 2 Tri for Sport Relief, will see them swimming, cycling and running in three UK cities over the three days.
All money they raise, will go towards helping homelessness, domestic abuse, mental health stigma and child poverty.
It will begin in Cardiff on Wednesday 11 March, followed by a trip to Glasgow on Thursday 12 March, then to Manchester for the final triathlon, on Friday 13 March, the day of Sport Relief.
Radio 2 will keep listeners up to date with how the challenge is going for the three presenters with progress reports in various shows including Zoe Ball, Ken Bruce, Jeremy Vine, Steve Wright and Sara Cox.
Jo Whiley will be hosting her regular Radio 2 evening show live from Cardiff on the Tuesday, from BBC Pacific Quay studios in Glasgow on the Thursday with the help of Richie and Reverend Kate, then travelling to Manchester on Friday for the final triathlon.
Jo Whiley, who took part in a 26 hour treadmill challenge for Sport Relief in 2014, says: "Having done a Sport Relief challenge and a triathlon before, you could argue that I know exactly what I'm letting myself in for this time round. Both experiences have taught me well and have shown me how sport has the power to change people's lives.
"I know it's going to be hard; we're going to laugh, we're going to cry… but all of it will be worth it, and so much more when we reach Manchester on Friday 13 March. In Richie and Kate, I couldn't have asked for better teammates to join me on this incredible journey, and I can't wait to get started."
Reverend Kate Bottley says: "There's few things I love more than being in the open waters and taking a swim… so much so that I did 365 of them last year. So, with a fair bit of swimming experience behind me I was quick to remind Jo and Richie that it's going to be a little bit chilly in the water at this time of the year.
"As for the running and cycling bit, I'll admit, I'm a novice, and you could say I'm a little bit nervous; less so now I've discovered a pair of running leggings that don't fall down! I know it's going to be hard, and I know it's going to push us all to our emotional, physical and mental limits; but I know with my team mates to support and encourage me, anything is possible. I can't wait to get started and raise some vital funds for Sport Relief."
Richie Anderson says: "I've taken on some incredible challenges in the past, but this one is definitely going to be the toughest of them all. I mean, one triathlon would have been tough enough, let alone three, back-to-back.
"Over the last few weeks, I've been getting out and about running, cycling and even doing a little bit of open water swimming in Hyde Park…which was absolutely freezing. I won't lie, it's a little bit daunting, but having Jo and Kate by my side, and knowing that the money we raise along the way is going to help communities right here in the UK and around the world, is all the inspiration I need."
If you've been wondering why @jowhiley, @revkatebottley, and @richie_anderson have been especially active in recent weeks, THIS is why!

After weeks of intense training, they'll be taking on our #Dare2Tri for @sportrelief. That's 3 triathlons, over 3 days, in 3 cities! ???‍♀️ pic.twitter.com/FJ7vOgPySN

— BBC Radio 2 (@BBCRadio2) March 2, 2020
Ready. Set. GO! @BBCRadio2's @jowhiley, @richie_anderson and @revkatebottley will be swapping the studio for the great outdoors and tackling a demanding triathlon challenge – 3 tough routes, in 3 different UK cities, in 3 days!
Tune in on Weds 11th March: https://t.co/Hp0wlfNBBc pic.twitter.com/K8Rj0xeUUH

— Sport Relief (@sportrelief) March 2, 2020