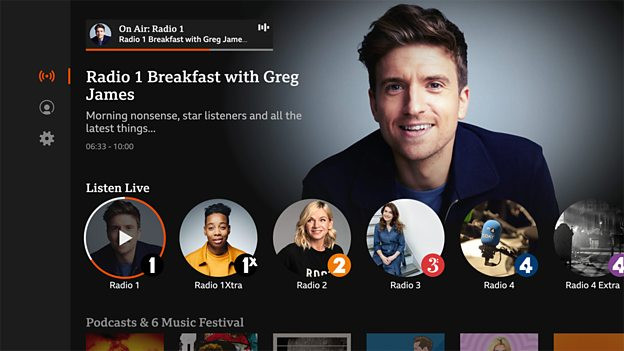 A new app has been launched by BBC Sounds for connected TVs with over 80,000 hours of audio content.
The app is available on YouView and Virgin, but will launch on other TV platforms in the future. It will give listeners another way to access live and on demand radio from the BBC's 18 national and 40 local stations, music mixes curated by experts, artists and special guests, and a wide range of award-winning podcasts.
With the Sounds TV app you can browse by category, making it easy to find things such as True Crime podcasts, Hip Hop mixes or something in the Comedy category. It allows you to skip forward or rewind 20 seconds and move to the previous or next episode.
Live track information is displayed when you're listening to live radio and a full tracklist for all Sounds music mixes and on demand music radio shows. You can also see all available episodes for podcasts and previously broadcast radio shows.
There's no need to be concerned about screen burn on your TV as the BBC Sounds TV app has a screen saver which protects against it.
Jonathan Wall, controller of BBC Sounds, says: "BBC Sounds has over 80,000 hours of radio programmes, podcasts and music mixes so there's a huge amount of choice for listeners. The new TV app is another way the BBC will be there for people through the current challenging times, giving listeners access to all of our brilliant audio through a few clicks of their TV remotes."