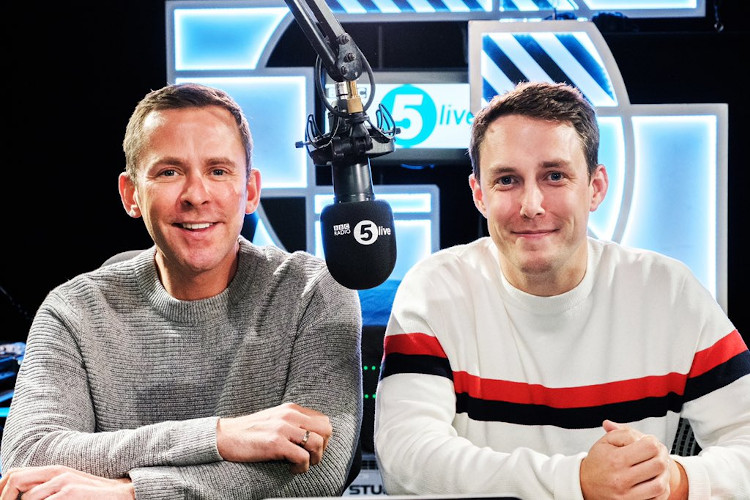 Scott Mills and Chris Stark are to host a new Saturday morning show on BBC Radio 5 Live from November, but don't worry, they're not leaving Radio 1.
Their new show will start on Saturday 9 November 2019 and air in Danny Baker's old slot from 9am till 11am. It will include lots of laughs and listener interaction.
Scott will continue his Radio 1 weekday afternoon show with Chris Stark, which they've presented together for the last seven years. Scott will also continue to present the Official Chart and Chris will still co-present BBC Radio 5 live's That Peter Crouch Podcast.
Scott Mills says: "I'm so delighted to be joining BBC Radio 5 live! I love my Radio 1 show and covering for Claudia on Radio 2 which I'll still be doing. But I'm now ready to bring a whole different show to 5 live. Expect lots of laughs and of course Chris Stark. Just what you want on a Saturday morning!"
So excited to be joining @bbc5live and to get another day on air with one of my best mates in the world. It's been so hard to keep this quiet ? This is a dream! We cannot wait to get started on Saturday mornings https://t.co/5u0b0Kl46W

— Scott Mills (@scott_mills) October 17, 2019
5 Live will see other changes to its Sunday schedule, including John Pienaar's Politics moving to the earlier time of 9am, Laura Whitmore returns every Sunday morning with big name guests from the worlds of politics, music and showbiz and 5 live's Sunday sports coverage kicks off with discussion show The Squad With Nick Bright at 11.30am.
Chris Stark says: "Saturday mornings for me were always the excitement of a day of sport ahead and the routines that came with it. Wenzels steak slice, listening to Fighting Talk, meeting up with mates at the Pinner war memorial before kicking on to Vicarage Road.
"To take on Saturday mornings at 5 live is a huge honour. I'm excited for us to make a show that reflects the lives and stories of everyone listening on a Saturday morning. The best time of the week. We cannot wait to get started.
Laura Whitmore says:"I am thrilled to have my own full time show and be part of the 5 live family. The station has been hugely supportive of the topics I've covered so far and the people I've interviewed.
"With a longer show, I'm excited to build on this as well as bringing some new exciting discussions to the station."
?After a mega summer series on 5 Live…

Laura Whitmore [@thewhitmore] is back every Sunday morning with big name guests from the world of politics, music and showbiz.

STARTS NOVEMBER 10TH AT 10AM. pic.twitter.com/1g48ZkVyKb

— BBC Radio 5 Live (@bbc5live) October 17, 2019