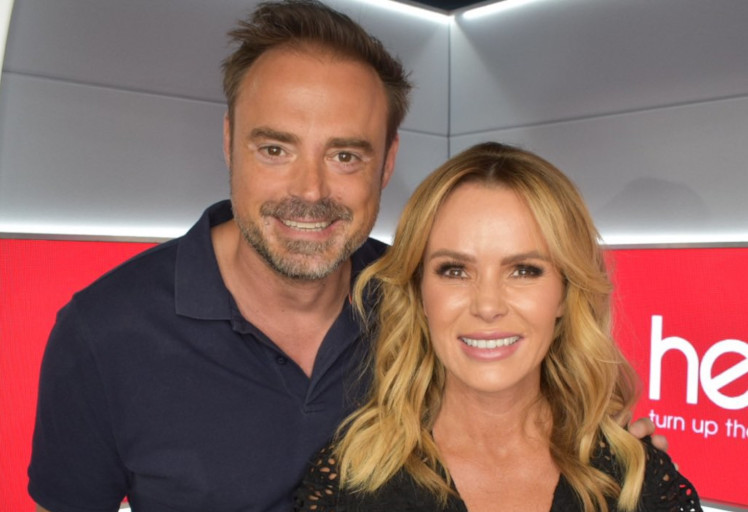 Jamie Theakston and Amanda Holden have a good reason to celebrate as the latest audience figures released today show that Heart Breakfast has opened with 4.6 million weekly listeners, making it the biggest commercial radio show and commercial breakfast show in the UK.
These are their first set of audience figures since the show started on 3 June. Highlights from the new show have included Jamie and Amanda being joined in the studio by stars including Lewis Capaldi, Sam Smith, Dame Helen Mirren, Little Mix and Piers Morgan.
It's a big achievement for the pair as new radio breakfast shows usually take a long time to build a loyal audience. Amanda Holden said: "I'm so happy and proud to be part of the UK's biggest commercial breakfast show with my brilliant co-host, Jamie Theakston.
"The team at Global are absolutely incredible and make coming in to work each day an absolute joy. A big thank you to our wonderful listeners up and down the country for tuning in each morning and getting involved to make it so much fun."
It wasn't such good news for Zoe Ball's breakfast show on BBC Radio 2 which has lost nearly one million listeners since the same period last year and is down around 300,000 listeners over the last three months. Her weekly audience is now at 7.9 million.
Chris Evans has held his Virgin audience stable at 1.1 million, while Greg James has seen a slight lift year on year to his Radio 1 breakfast show, up to 5.05 million from 4.98 million.
Heart continues its reign as the UK's biggest commercial radio brand with 9.8 million people tuning in every week, breaking a new record in the number of listeners tuning in each week and beating Radio 1 for weekly audience, listening hours and audience share.
The way in which listeners tune into their favourite stations is changing, with digital listening reaching a record high.
There's been a growth in listening online and via apps, and to digital listening in car and to national digital stations. This has helped to increase the share of digital listening to 56.8% up from 52.4% in the same period last year.
The most popular digital-only station is KISSTORY, increasing by 18.4% to reach a new record of 2.55 million listeners, followed by BBC 6 Music – the leading BBC digital-only station reaching 2.41 million listeners. BBC Radio 5 Live sports extra grew by 31.3% to reach a new record of 2.19 million listeners, to become the third most-popular digital-only station.