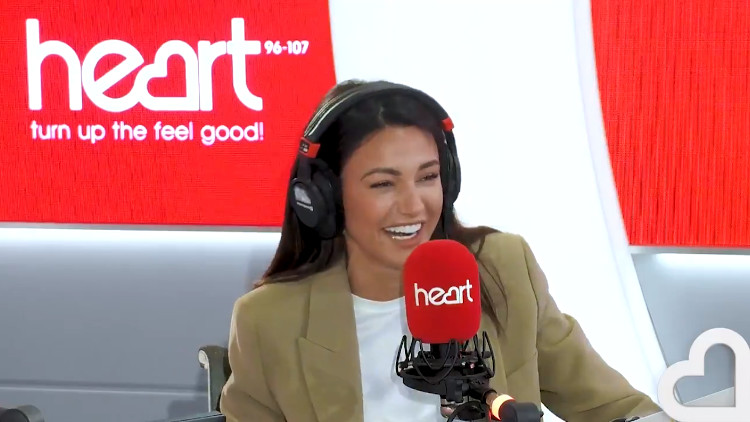 Mark Wright surprised Heart Breakfast guest, Michelle Keegan on the phone this morning (Thursday) while she was deciding which she couldn't live without – Mark or her phone!
The question came about when Jamie Theakston said he wanted to find out about some of the things Michelle can't live without. Jamie asked her: "Your phone or Mark your Husband? If you had to give up one, which would you keep?"
Laughing, Michelle answered: "Very very hard, it's going to have to be Mark intit? He'll be listening somewhere."
Then, as if by magic, Mark was on the end of a phone and said: "Oh yes I am listening. You just answered correctly, well done!"
It could have all been previously set up of course, but it didn't sound like it and Michelle immediately came back at Mark saying: "I was actually going to pick phone I'm not going to lie. I thought, has he gone back to bed, can I get away with this?"
Mark retorted that she was fibbing because she's on her phone all day long.
"You can talk," Michelle quickly responded, adding: "You're on your bloody phone all the time."
Once the banter started, it didn't stop, with Michelle asking how his run had gone this morning.
Knowing which chord to pull, Mark answered: "Amazing, breakfast was good as well, so you missed out ha!" Michelle said: "I thought you were having breakfast with me," then added: "I see what's happening now, look you caused a row now getting him on the show!"
Trying to calm things down, or perhaps, fuel the fire, Jamie asked, now that Mark is back after being away a lot in LA, is he getting under Michelle's feet?
Michelle said that she's had to retrain him around the house because he's become a little lazy, he just steps out of his pants and leaves them on the floor, expecting them to walk to the washing machine.
Mark was having none of it, he said: "Michelle, I'm going to ask you a question now. Who is more house proud, you or me? Now be honest."
Her response was that Mark has more OCD than she has, she's a better cook and she cleans up after him more than he cleans up after her!
What could Mark say to that? He didn't reply. Instead, he said: "If she's going to tell fibs I'm going. Have a good morning guys. Bye"
And that was that!
It's quite likely people up and down the country who were listening to the conversation would have said to their partner: "That sounds just like you and me do when we bicker!"
.@MarkWright_ secretly listens in as @JamieTheakston asks @michkeegan if she'd give up her mobile phone or her husband ??

?Listen Live – https://t.co/eMuzMz9v3Y – @lucyhorobin pic.twitter.com/ovE2kYTc67

— Heart (@thisisheart) August 22, 2019
Tune into Heart Breakfast with Jamie Theakston and Lucy Horobin (in for Amanda Holden) weekdays from 6am – 10am.