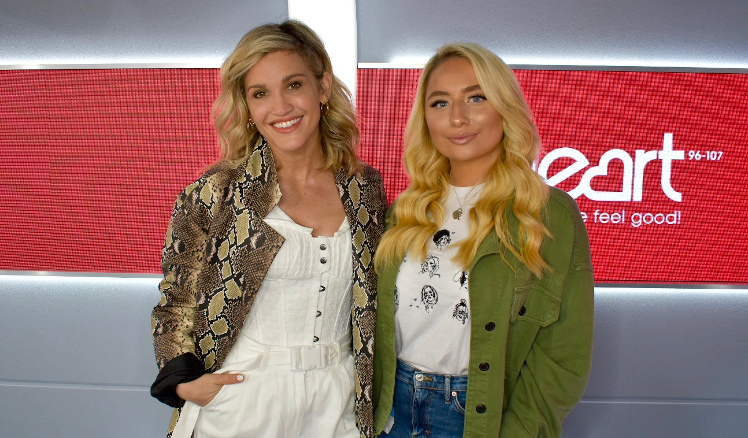 Heart Breakfast's showbiz expert and previous Strictly contestant Ashley Roberts exclusively revealed the fourth person to join the Strictly line up this morning as Youtuber Saffron Barker.
Saffron, who has over two million subscribers on her Youtube channel, spoke to Ashley saying: "I am so excited I can't even tell you. This is such a dream for me. I'm also very nervous but I just can't wait for it to actually start and I've had to hold this in for such a long time now, I'm so excited its announced."
Saffron revealed she's a fan of the TV show and replying to Ashley's question about what she's most excited about, Saffron said: "Everything. I'm actually most excited to find out my partner, although I know I've still got to wait another month to find out my partner.
"But just to get started, learning a new skill obviously. Like how cool to say you can do Latin and Ballroom? And obviously all the glitz and glam."
New @bbcstrictly star @SaffronBarker delighted she can talk about starring on the show – but still has a month until she knows who her partner is ?? #Strictly – @ImAshleyRoberts

?Listen Live – https://t.co/eMuzMz9v3Y pic.twitter.com/QHfm2W6Jd9

— Heart (@thisisheart) August 1, 2019
She also said that she's excited to follow in fellow Youtuber Joe Suggs' footsteps and added: "He done absolutely amazing. I've got a lot to live up to."
Ashley wanted to know if Saffron has anyone in mind as far as a partner that she'd like to dance with?
"Do you know what I think I'll be happy with anybody," she replied, adding, "But one thing that I really do want is a partner that pushes me and works hard.
"To be honest I think they're probably gonna be sick of me because I'm not going to want to leave the training room."
And, as far as looking for love on the dancefloor, Saffron, who's currently single, admitted: "You know what I haven't even really thought about that. I think I'm just so focussed on, obviously I want to meet my partner and have the best time and everything else, but I'm just so focused on working hard and yeah I haven't even really thought about it so.."
YouTuber @SaffronBarker warns any dance partner will 'get sick' of her as she is unveiled as new @bbcstrictly contestant ??- @ImAshleyRoberts

?Listen Live – https://t.co/eMuzMz9v3Y pic.twitter.com/9jvBSS3PoP

— Heart (@thisisheart) August 1, 2019
Tune in to Heart Breakfast, weekdays from 06:30 – 10:00.