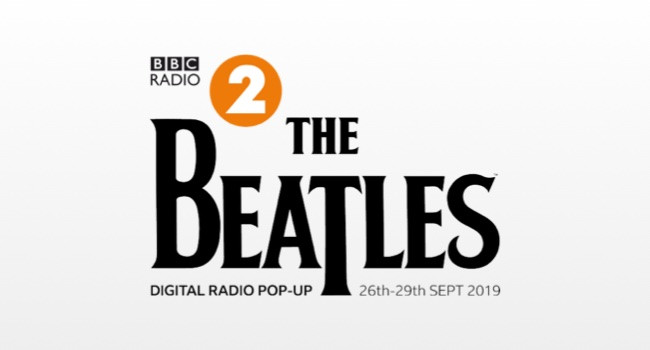 A special four-day pop-up DAB radio station, Radio 2 Beatles, will celebrate the 50th anniversary of the Abbey Road album by the Beatles.
The station, a part of BBC Radio 2's celebration of fifty years since the release of the album, will be on-air from Thursday 26th until Sunday 29th September from the Abbey Road Studios. It will include programmes fronted by Gary Barlow, John Bishop, Martin Freeman, Guy Garvey, Dave Grohl, Giles Martin, Cerys Matthews and Paul Merton alongside Zoe Ball, Sara Cox and Jo Whiley.
Radio 2 Beatles will pay homage to John, Paul, George and Ringo as a group, as individual artists, and as songwriters. Some of the live shows will also simulcast on Radio 2 and BBC Sounds – and broadcast alongside pre-recorded specials and classic Beatles content from the BBC archive.
The launch will be simulcast on Radio 2 and BBC Sounds by Ken Bruce, who's show will feature a special Beatles themed Tracks Of My Years and PopMaster quiz.
Later that day, Jo Whiley's Radio 2 evening show will broadcast from Abbey Road with live performances and special guests.
Highlights of other shows exclusive to Radio 2 Beatles include Grace Dent with a Hip to the Trip focussing on free love, fashion and The Fab Four, Nicky Campbell will discuss the crucial role played by the band's producer Sir George Martin, with his son Giles.
Actor Himesh Patel, the star of the movie Yesterday, tells the incredible story behind Abbey Road – the band's last recorded album – in a new two-part special and songwriter Guy Chambers looks at the genius of their lyrics and melody.
From the BBC archive Radio 2 Beatles will be broadcasting When John Met Paul with Bob Harris, Radio 4's Mastertapes with Paul McCartney, and Sgt. Pepper Recreated, recorded in 2007 and featuring performances from Oasis, Bryan Adams, and Kaiser Chiefs.
With live broadcasts from London's iconic Abbey Road Studios, as well as new and archive shows, we're celebrating Abbey Road's 50th Anniversary with a very special pop-up radio station!

Radio 2 @thebeatles.
On Digital Radio.
26th-29th September.https://t.co/fcKZDHkMGm pic.twitter.com/HPRHZJd0M8

— BBC Radio 2 (@BBCRadio2) August 29, 2019