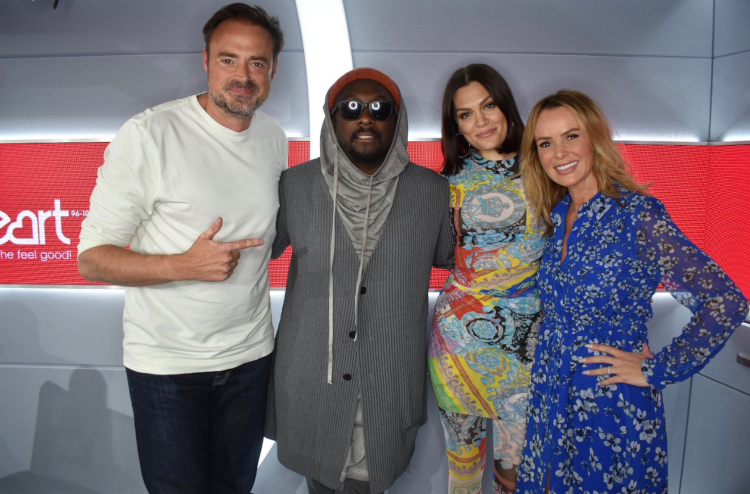 Jessie J and Will.I.Am appeared on Heart breakfast with Jamie Theakston and Amanda Holden this morning.
Jessie J spoke about her belief that she can have children despite being told she can't. She also spoke about her relationship with Channing Tatum and how he looks in the shower!
Jamie asked her about the struggles she's had trying to start a family. Jessie explained that she's always been open and honest about any pain or battles in her life, she said: "Four and a half, five years ago I was diagnosed with this disease that, you know is making it harder.
"I was told I couldn't have children, I don't believe it. I believe in miracles. I haven't given up.
"For the last four years I've changed my diet, I've changed the way I live, I've done a lot of self-work and just to be open about it and start a conversation that could help someone that doesn't know how to talk about it.
"Whatever happens will happen. I've had great blessings and success in my life and I believe that balance has to happen for everybody."
Moving on to Jessie's relationship with Channing Tatum, Jamie asked: "Have you and Channing had that conversation as well?"
Jessie replied: "No! No just because he's Channing Tatum everyone's kind of sped us up into this like 'are you getting married? Are you doing this?' I mean I've been in relationships for a lot longer than Chan and I have in the last four, five years but they're not famous so no one really cares."
Amanda told Jamie: "They're just hanging out and having a lovely time. I'm very very respectful of his situation and his…privacy Jamie!
Jessie agreed and added: "Yeah. But he looks great naked in the shower!"
.@JessieJ believes in 'miracles' despite fertility struggle ❤️ pic.twitter.com/Mbw1Vz7Q1m

— Heart (@thisisheart) June 10, 2019
The all new Heart Breakfast with Jamie Theakston and Amanda Holden can be heard weekdays from 06:30 – 10:00 across the UK.