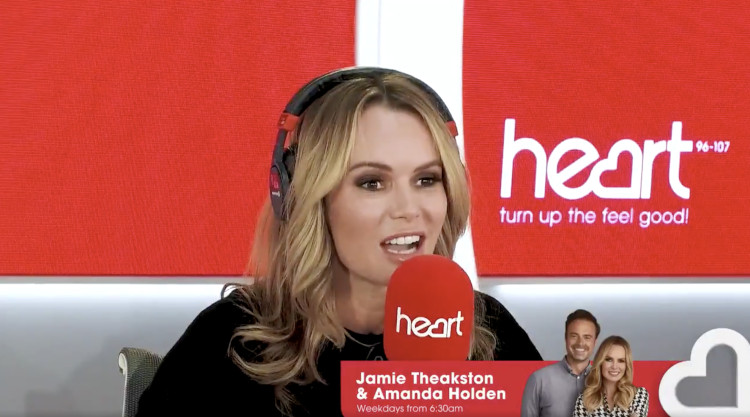 It's been around 30 years since they last saw each other, but this morning Amanda Holden facetimed her first ever boyfriend on Heart Breakfast.
She'd been talking with Jamie Theakston during the show about having a proper dance with her first ever boyfriend. It took place in Bishop's Waltham Church Hall when Amanda was only 9 years old and she remembered his name was Clifford Colver.
Later, Jamie received an email from a lady called Karen who said she'd dated someone with that name a few years ago and thought it might be the same Clifford. She said he now lives in Gosport, works in sales and is a keen surfer.
"But better than that," Jamie added, "I've got a mobile number!"
Needless to say, Jamie decided to facetime Clifford while live on-air. As the phone rang, Amanda admitted her tummy was turning over.
When Clifford answered the phone, Jamie asked: "Are you the Clifford Clover who slow-danced Amanda Holden in 1980 in St Peter's church hall, Bishop's Waltham?"
He confirmed it was him and had 'all good' memories of dating Amanda including the time they went ice skating.
Amanda remembered Clifford bringing a present back for her when he went on holiday, it was a recorder with her name engraved on it. She said she still has it at home somewhere.
Jamie wanted to know, what happened to the relationship? Clifford joked: "I tried my very best, but she up and left." Amanda said: "Yeah, I'm sorry but I think I went off with Matthew Bishop, you don't even want to hear that name again do you!"
You can watch the full encounter in the video below:
.@JamieTheakston helped @AmandaHolden track down her first boyfriend, 30 years after they last saw each other 😱 pic.twitter.com/HHKGjQSxI0

— Heart (@thisisheart) June 11, 2019
Tune in to Heart Breakfast with Jamie Theakston and Amanda Holden, weekdays from 06:30 – 10:00 across the UK.