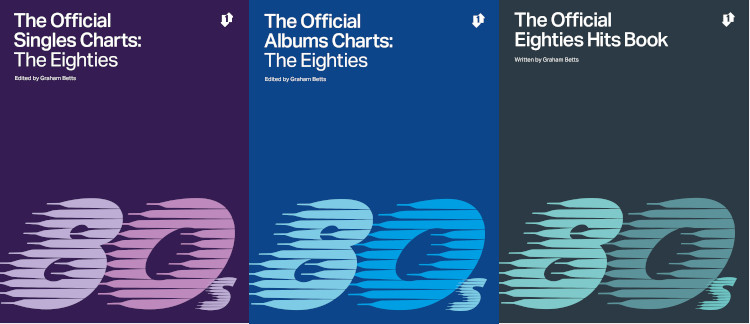 If you've followed the charts on the radio over the years, you may be pleased to hear that Official Charts is launching the definitive series of UK chart books this month, designed to chronicle the history of the Official Singles and Albums Charts.
Kicking off the series are three volumes celebrating the decade that brought us superstar acts and bad fashion – The Eighties!
These three volumes are The Official Singles Charts, The Official Albums Charts, both of which have a chronological listing of all the charts by week, from 5 January 1980 to 30 December 1989, and The Official Eighties Hits Book, which is a companion encyclopaedia of all the releases that reached the charts in that decade, listed by artist, plus lots of chart facts.
There's also data included on the longest chart lengths which were published at the time, up to Top 100 – the longest chart lengths yet committed to book form. The albums chart volume represents the first time the charts for the era have been committed to book format.
The new series of books are published by the Official Charts Company as print on demand volumes and produced through the Kindle Direct Publishing platform.
Chart expert and archivist Graham Betts is putting together this series and says: "The Official Charts are an institution, chronicling music fandom across more than half a century in the UK. You really shouldn't underestimate the importance of the charts in the life of the British nation and the Eighties played a key part in helping establish that heritage. These three volumes will more than satisfy any appetite for this era of excess and there's more great books to follow to build into a truly comprehensive history of the charts."
Over the coming months further volumes will be published covering other chart decades, so you can build a library spanning the history of the Official UK charts, from the Fifties, right through to the present decade.