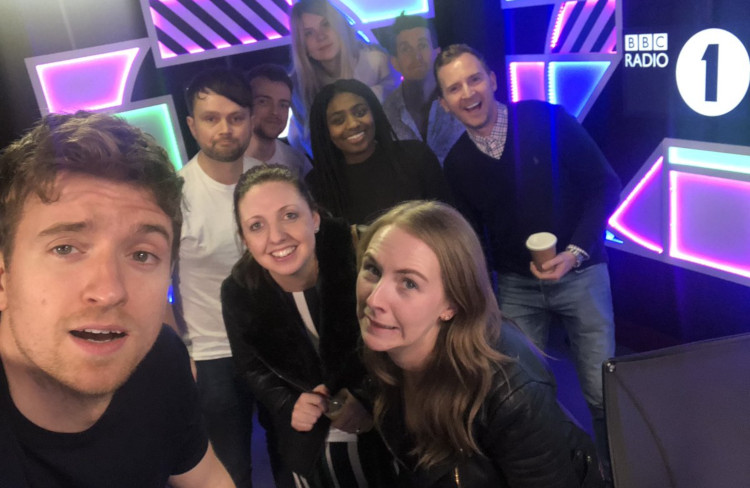 greg_james/Instagram
Last week Greg James promised to take a heartbroken listener to the BRIT Awards to cheer her up but there had been a possibility it might not happen.
School teacher Katie Woodward had phoned in to Greg's BBC Radio 1 breakfast show on Valentines Day to tell him how upset she was because her boyfriend had dumped her the night before.
Feeling sorry for her, Greg offered to take Katie as his plus one to the BRITs, then to an after-show party and to be a guest on his show the following morning.
Then on Monday morning Greg was locked into the Radio 1 panic room with no chance of escape until listeners helped to crack the code to open the door.
He was worried that he might not get out in time for the BRITs last night. Luckily, after about 30 hours the code was cracked and Greg was free, so he was able to keep his promise.
Both Greg and Katie made it to the bash and partied the night away, spending some time on Sam Fender's bus, then catching a few hours sleep before making it to the Radio 1 studios just in time for the breakfast show.
It seems like they had fun but were a little worse for wear as Greg tweeted: "A happy but hungover ending for Katie. We invited her to the Brits to take her mind off her recent breakup…then she co-hosted the show this morning. We survived! Just. I am 800 years old."
Greg also revealed that Katie didn't get as drunk as the rest of the crew they were with and that she'd been his minder.
A happy but hungover ending for Katie. We invited her to the Brits to take her mind off her recent breakup…then she co-hosted the show this morning. We survived! Just. I am 800 years old pic.twitter.com/QgkKqRBq1E

— Greg James (@gregjames) February 21, 2019