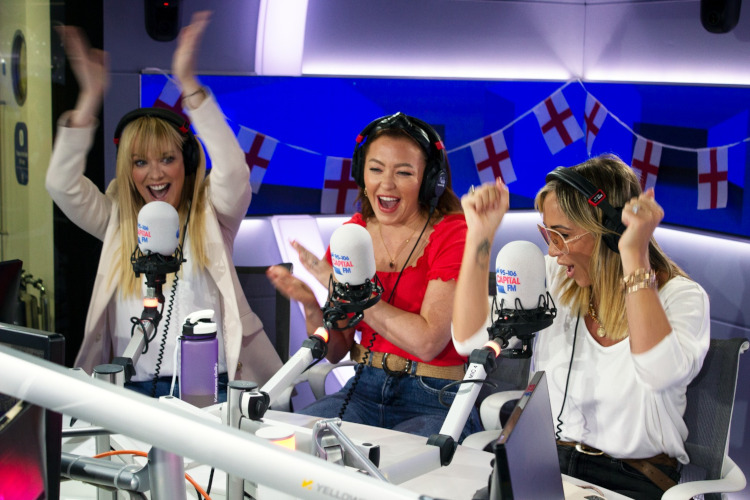 Atomic Kitten were reunited for the first time since the release of 'Southgate You're the One (Football's Coming Home Again)' on Capital Breakfast with Roman Kemp and Heart Breakfast with Jamie Theakston and Amanda Holden this morning.
Both breakfast shows are broadcast from the same building in London's Leicester Square and the group were on air to speak about their newly recorded version of 'Whole Again'. They were also there to get the nation in the mood ahead of England's EUROs semi-final tonight.
The girls told Heart Breakfast that it's the first time they've worked together in 15 years and Jenny Frost returned from Ibiza to join the celebrations. They then sang with hosts Jamie Theakston, Amanda Holden and Ashley Roberts:
For the first time in 15 years Atomic Kitten reunite on Heart Breakfast and perform their new song 'Southgate You're the One (football's coming home again)! ⚽️?

Sing along with us! ? @JamieTheakston @AmandaHolden @ImAshleyRoberts pic.twitter.com/oAUU92anXp

— Heart (@thisisheart) July 7, 2021
On Capital Breakfast the girls popped outside to have a singalong with listeners and a brass band.
Back in the studio, Jenny Frost said that she got the call on Monday to re-record the song with 30 minutes notice to head to the studio.
She explained: "I had a hangover, and I was on the beach and I was like "what?" I seriously went into the studio, and I was like "I'm really sorry, I'm covered in sand" and they were like "Can you take your shoes off?" Capital Breakfast's Roman Kemp told the group it was a "boyhood dream" to see them on the show as they sang along with listeners:
.@AtomicKOfficial singing 'Southgate You're The One' = it's coming home. ⚽️ pic.twitter.com/LitW9rp9KI

— Capital (@CapitalOfficial) July 7, 2021
You can hear Heart Breakfast with Jamie Theakston & Amanda Holden, weekdays from 6:30am – 10am and Capital Breakfast with Roman Kemp, weekdays from 6am – 10am.