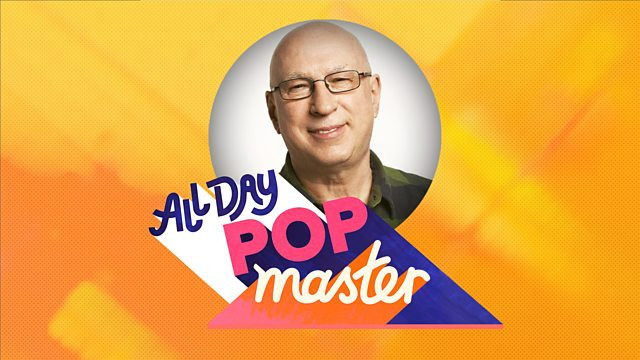 Following the broadcast of One Year Out – The PopMaster Story presented by Rob Brydon this Sunday, Ken Bruce will host the second All Day PopMaster on Radio 2 and BBC Sounds this May Bank Holiday Monday (31 May).
This time he'll pit some of the UK's most-loved celebrities against his listeners in the nation's favourite pop quiz.
Among the well-known quizzers taking part across the day are The Dark Destroyer (aka Shaun Wallace of ITV's The Chase), Zoe Lyons (BBC Two's Lightning), Richard Osman (BBC One's Pointless and House of Games), Jeremy Vine (Channel 5's Eggheads), The Chase's Vixen (aka Jenny Ryan), Anita Rani (Channel 4's The Answer Trap), Rick Edwards (BBC One's Impossible), plus Vernon Kay (ITV's Games of Talents) – who is standing in for Steve Wright that day – is a contestant himself in the final heat!
It all kicks off at 7.30am, culminating in the Grand Final in Sara Cox's show at 5.30pm, where Ken will be handing over to Sir Tom Jones and Sharleen Spiteri to ask the bonus round questions.
For the inaugural All Day PopMaster last year, radio presenters including Zoe Ball, Shaun Keaveny, Ronan Keating, Fleur East and Nick Grimshaw battled it out against Radio 2 listeners throughout the day, culminating in two listeners competing in the grand final.
Ken Bruce said: "Our radio celebrities last year did shamefully badly against our wonderfully bright and knowledgeable Radio 2 listeners, so let's see if the self-proclaimed Quizzers can do any better. No pressure, you understand, your fine reputations aren't at stake at all… much!"
The Dark Destroyer (Shaun Wallace) of The Chase, said: "Although I'm known for my quizzing prowess, that will be put to the ultimate test when I take part in the most challenging quiz on radio. Tune in to All Day PopMaster on Bank Holiday Monday 31st May 2021, a test to sort out the very best, from the rest…"
Zoe Lyons of Lightning said: "I am so excited to be taking part in Pop Master. I can't wait to have the Nation shout the answers at me in disbelief at my floundering via their radios. Dream come true really."
The Chase's Jenny 'The Vixen' Ryan, said: "I'm stopping for All Day PopMaster on 31st May and hoping for lots of BritPop questions… and for none on fifties crooners.  I'm also absolutely terrible at year questions, so wish me luck!"
Vernon Kay, host of Games of Talents, said: "What have I signed up for! Not only am I presenting The Big Show on Radio 2, standing in for Steve Wright this Bank Holiday Monday, but I'll also now be a PopMaster contestant in that very same show, up against some of the brightest quiz brains in Britain. What could possibly go wrong?"
Impossible host, Rick Edwards, said: "I've won on Mastermind, Pointless, The Chase, House of Games, Child Genius… but all of those shows have just been a warm up for the big one. The prize they all want. The Popmaster trophy. And I can very confidently say – I have absolutely no confidence going into this. I know miserably little about pop music. But bring it on! What have I got to lose, except my good name. And all credibility."
Eggheads host and fellow Radio 2 presenter, Jeremy Vine, said: "I am so excited that my sparring partner Mr Bruce is going to allow me onto PopMaster! I have asked for an assurance that the questions will only feature the early albums of Elvis Costello, but Ken hasn't agreed yet. PopMaster is the jewel in the crown of Radio 2's weekday output – the moment the entire nation stops to play. So this is a big moment for me, and I know I mustn't blow it."
All Day #PopMaster announcement! ??

Time to meet this year's contestants… pic.twitter.com/IE1nXG0TAG

— BBC Radio 2 (@BBCRadio2) May 24, 2021